Knowledge Quest English 1 Teacher Edition (Online Purchase)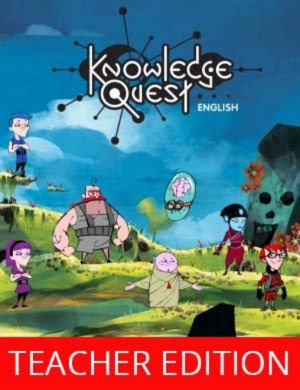 Title information

| | |
| --- | --- |
| Author/s | Macarthur |
| ISBN13 | 9780730341710 |
| Pub date | February 2012 |
| Pages | 0 |
| RRP | $114.95 |
Add to cart
Knowledge Quest for English 1 Teacher Edition (Online Purchase)
is the Teacher Edition of the exciting new series providing teachers and students with solutions to build core skills for success in English.
Knowledge Quest English 1
allows students to leave the classroom behind as they enter a world where learning English skills is fun and knowledge is rewarded.
KEY FEATURES
• A full-colour, engaging language reference tool with worksheet text that will teach language skills in a sequential progression
• Provides a highly interactive, fun and supportive online environment
• Students gain rewards through quest-based gameplay linked to educational concepts
• Students create their own character and progress through the game at their own pace.
• Features an in-game reward system that encourages completion of quests linked to educational concepts
• Contains graded NAPLAN-stlye questions with feedback to aid students' preparation for NAPLAN tests.
• Caters for different learning styles
• Develops skills and strategies for reading and comprehension
Knowledge Quest English 1 Teacher Edition
enables you to monitor student activity in the
online game
and
student workbook
, and track progress and view all results at an individual, group or whole class level. it is a digital-only product and includes a complementary set of targeted digital resources. These flexible and engaging ICT activities are available online at the JacarandaPLUS website (
http://www.jacplus.com.au/
).
For the teacher's
eGuidePLUS
,
click here
Module 1 GRAMMAR

Topic 1.1 Nouns
Topic 1.2 Pronouns
Topic 1.3 Adjectives
Topic 1.4 Verbs
Topic 1.5 Adverbs
Topic 1.6 Conjunctions
Topic 1.7 Prepositions
Topic 1.8 Phrases
Topic 1.9 Clauses
Topic 1.10 Sentences
 
Module 2 PUNCTUATION

Topic 2.1 Sentence punctuation
Topic 2.2 Punctuation within sentences
Topic 2.3 Punctuation within words  
Module 3 SPELLING

Topic 3.1 Word building and word origins
Topic 3.2 Generalisations and exceptions  
Module 4 VOCABULARY

Topic 4.1 Similar and opposite meanings
Topic 4.2 Confused words
Topic 4.3 Figurative language  
Module 5 READING COMPREHENSION
Topic 5.1 Recalling facts and details
Topic 5.2 Prior knowledge
Topic 5.3 Main idea
Topic 5.4 Visual grammar
Topic 5.5 Sequencing
Topic 5.6 Fact and opinion
Topic 5.7 Context clues