Queensland Physics Context to Concept & CD-ROM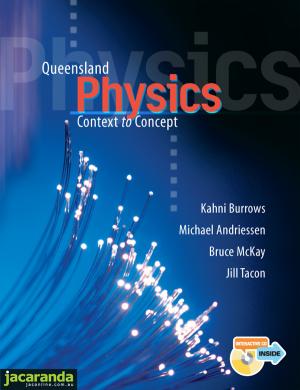 Title information

| | |
| --- | --- |
| Author/s | Burrows |
| ISBN13 | 9780731400577 |
| Pub date | October 2007 |
| Pages | 688 |
| RRP | $99.95 |
Add to cart
YEARS 11 - 12

Queensland Physics Context to Concept with CD-ROM is a full-colour text and CD-ROM resource package designed for the state's much-awaited Physics syllabus. The text develops fundamental Physics concepts within a contextualised framework to allow teachers the flexibility to teach using either a contextualised or more traditional approach. Its key authors, Kahni Burrows and Mike Andriessen are respected and experienced Physics teachers and authors.

Key features:

Gearing up for Physics chapters to introduce students to essential Physics concepts and skills

Key ideas and key concepts from the syllabus to begin every context

What do we think and know already? questions to establish students' prior knowledge and understanding

Physics terms and high interest facts in page margins

Questions interspersed throughout chapters

Physics in the news articles to show real-world applications of Physics

Try this activities to allow for quick demonstration of concepts

Review questions at the end of each chapter

Building on the context secions for each component, including investigations and stimulus response activities.

Features of the CD-ROM:

The entire text included fully-worked solutions for all questions

Experiments and investigations

Animations of key concepts
weblinks

The strength of this exciting and authoritative resource is its flexibility of approach using real-world contexts as a starting point to engage students in an understanding and appreciation of Physics in the twenty-first century.
Table of Contents
Introduction: Gearing Up for Physics
Chapter 1: Measuring Up
1.1 Standardising Measurements
1.2 Using Prefixes
1.3 Converting between Units
1.4 Accuracy and Precision
1.5 Sources of error
1.6 Calculations and Precision
Chapter 2: Forces and Vectors
2.1 The Nature of Forces
2.2 Vectors
2.3 Adding Force Vectors
2.4 Static Equilibrium
2.5 Determining the Equilibrant
CONTEXT 1 - PHYSICS ON THE ROAD
Chapter 3: Starting, Stopping and Moving
3.1 Distance and Displacement
3.2 Speed and Velocity
3.3 Acceleration
3.4 Straight Line Motion
Chapter 4: Newton on the Road
4.1 Isaac Newton and the Laws of Motion
4.2 Motion on a Level Surface
4.3 Motion on an Incline
4.4 Inertia
Chapter 5: Built for Safety, Built for Speed
5.1 Built for speed
5.2 Built for Safety
5.3 Stopping Distances
CONTEXT 2 - FROM STICKS AND STONES TO SKYSCRAPERS
Chapter 6: Properties of Materials
6.1 Density
6.2 Strength
6.3 Thermal Expansion and Contraction
Chapter 7: Building It Up
7.1 Load
7.2 Beam
7.3 Structural stability
7.4 Trusses
7.5 Arches
7.6 Domes
7.7 Types of structures
7.8 When things go wrong
7.9 Safety factors
CONTEXT 3 - THE PHYSICS OF SPORT
Chapter 8: The Drop Zone
8.1 Falling Under Gravity
8.2 Skydiving and Parachuting - Falling for Fun!
8.3 Bungee Jumping
8.4 Projectile Motion
Chapter 9: Bats, Balls and Boots - Collisions in Sport
9.1 Getting Things Moving
9.2 Momentum and Impulse
9.3 Explosive Motion and Momentum
9.4 Conservation of Momentum in Two Dimensions
9.5 Kinetic Energy
Chapter 10: Sporting Circles
10.1 Moving in Circles
10.2 Providing Centripetal Force
CONTEXT 4 - THE PHYSICS OF FUN
Chapter 11: Hang On!
11.1 Doing Work
11.2 Energy and Work
11.3 Roller Coasters
11.4 Free-fall Rides
11.5 G-forces
Chapter 12: In a Spin
12.1 Periodic Motion
12.2 Horizontal Circles Revised
12.3 Vertical circles
12.4 The Fear Factor!
12.5 Simple Harmonic Motion
CONTEXT 5 - PHYSICS IN SPACE
Chapter 13: Exploring the final frontier
13.1 Cosmic forces
13.2 Orbits
13.3 Rockets
13.4 Possibilities for the future
13.5 Relativity
Chapter 14: Origins
14.1 Cosmology - Evolution of the universe
14.2 Evolution of stars
14.3 Evolution of our solar system
CONTEXT 6 - SIGHT AND SEEING
Chapter 15: Seeing the Light
15.1 Electromagnetic Spectrum
15.2 Visible Light
15.3 The Behaviour of Light
15.4 Reflection
15.5 Transmission of Light through a Medium
15.6 Refraction
Chapter 16: The Eyes Have It!
16.1 Human Vision
16.2 How the Eye Forms Images - Lenses
16.3 Seeing Objects Near and Far
16.4 How We See Colour
CONTEXT 7 - THE PHYSICS OF MUSIC
Chapter 17: Sound Thinking
17.1 What is Sound?
17.2 Speed of Sound.
17.3 Sound Characteristics
17.4 Reflection of Sound
17.5 Interference of Sound Waves
17.6 Vibrations and Resonance
17.7 Basic Acoustics
Chapter 18: Making Music
18.1 Music to My Ears
18.2 Standing Waves
18.3 Musical Instruments
18.4 Stringed Instruments
18.5 Wind and Brass Instruments
18.6 Why Instruments Sound Different
18.7 Music for Pleasure
CONTEXT 8 - ELECTRICITY IN THE HOME
Chapter 19: Electric Circuits
19.1 Electric charges
19.2 Electric currents
19.3 Resistors and resistance
19.4 Power Supply
19.5 Series and Parallel Circuits
Chapter 20: Switching On
20.1 Direct and alternating voltages and currents
20.2 Electrical dangers
20.3 Safety devices
20.4 Household wiring
20.5 Power
20.6 Paying for electricity
CONTEXT 9 - THE BIRTH OF MODERN PHYSICS
Chapter 21: From plum puddings to Schrodinger's cat
21.1 Classical models of the atom
21.2 The Modern Atom
21.3 The photoelectric effect
21.4 De Broglie's wave theory
21.5 Development of quantum mechanics
Chapter 22: Living in a Nuclear Age
22.1 Structure of the atom
22.2 Binding energy
22.3 Radioactive decay
22.4 Nuclear radiation
22.5 Nuclear transmutation
22.6 Energy from chain reactions
22.7 Nuclear reactors
22.8 Chernobyl
22.9 Nuclear weapons
CONTEXT 10 - MEDICAL PHYSICS
Chapter 23: Technological methods of medical diagnosis
23.1 Ultrasound
23.2 X-rays
23.3 CT scans
23.4 Endoscopes
23.5 Keyhole surgery
Chapter 24: Radioactivity and Nuclear Magnetic Resonance in Medicine
24.1 Radioactivity in medicine
24.2 Nuclear magnetic resonance
24.3 Comparison of the main imaging techniques