Senior Geography for Queensland Book 1 2E & eBookPLUS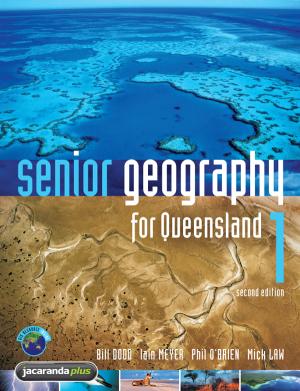 Title information

| | |
| --- | --- |
| Author/s | Obrien |
| ISBN13 | 9780731405923 |
| Pub date | November 2007 |
| Pages | 240 |
| RRP | $79.95 |
Add to cart
The second edition of the Senior Geography for Queensland series has been written specifically for the 2007 syllabus in Senior Geography. Following the syllabus sequence, Book 1 covers Themes 1 and 2, while Book 2 covers Themes 3 and 4. As well as covering the syllabus focus units, both texts include elective units. Each book is accompanied by a GIS resource disk to assist in the requirement that students experience spatial technologies.
Features of the text:
- Key ideas and key questions from the syllabus at the beginning of each chapter in order to foster geographical inquiry
- New and updated case studies, covering a range of scales and geographical contexts
- Revise and Review questions at the end of each chapter to reinforce knowledge objectives
- Extensive exercises within chapters to develop geographical inquiry skills and fieldwork
- Highly illustrated, full-colour presentation, providing a wealth of information and skills practice
Features of the GIS resource disk:
- ESRI's ArcExplorer: Java Edition for Education Version 2.3.1 edition software (AEJEE)
- A guide to downloading later versions of ESRI's free AEJEE
- A step-by-step guide to AEJEE for teachers and students
- Two GIS modules on urbanisation and natural hazards, incorporating student worksheets.
Note to teachers and students
Acknowledgements
Chapter 1 - Investigating the natural environment
Introduction
The Earth's systems
Elective 1: Managing coastal environments
Regional case study - Great Barrier Reef Marine Park
Elective 2: Managing glacial and polar environments
Local case study - Managing New Zealand's glacial environments
Regional case study - Antarctica: managing our last wilderness
Revise and review
Key terms
Chapter 2 - Responding to Natural Hazards
Introduction
Responding to geological hazards
Regional Case Study - Volcanoes of Italy
Atmospheric hazards
Investigating cyclones - a geographic inquiry
Concluding the inquiry
Regional case study - Tropical cyclones in Australia
Geomorphic hazards
Local case study: Thredbo land Sijeruk
National case study: Landslides in Nepal - the interaction between physical and human systems
Revise and review
Key terms
Chapter 3 - Managing Catchments
Introduction
The hydrologic water cycle
River valleys and landforms
The work of Rivers
Using catchment data
Local case study: Local flooding in Brisbane
Living in a catchment
Stream regulation and water flow
Local case study: The Three Gorges Dam, China
Domestic Water
Regional case study: A Queensland water grid
Regional case study: The Murray-Darling Basin
Local case study: Fieldwork in a local catchment
Sustainable catchment management
Revise and review
Key terms
Chapter 4 - Investigating Social Environments
Introduction
What are communities and settlements?
Where do most of the world's people live?
The history of settlements
The structure of modern settlements
Features of modern-day cities
National case study: Australian settlement patterns
Revise and review
Key terms
Chapter 5 - Sustainable Communities
Introduction
Ecological sustainability, livability and ecological footprints
Regional case study: Sustaining Brisbane's air quality
Local case study: Sustainable communities in Brisbane's inner suburbs
Planning for suburban consumers - the application of gravity models
Australia's rural communities - are they sustainable?
Regional case study: Sustaining communities on the Darling Downs
National case study: Sustainable coastal communities
Planning for sustainable cities
Local case study: The planned capital city
Revise and review
Key terms
Chapter 6 - Connecting People and Places
Introduction
Infrastructure
Ecocities
Regional case study: South-east Queensland
Planning for commuters
The influence of infrastructure
Local case study: Curitiba, Brazil
Regional case study: Tibetan rail link
Globalisation
Global case study: Globalisation - India and Okinawa
Revise and review
Key terms
INDEX