Outcomes 1 Preliminary Course 4E & eBookPLUS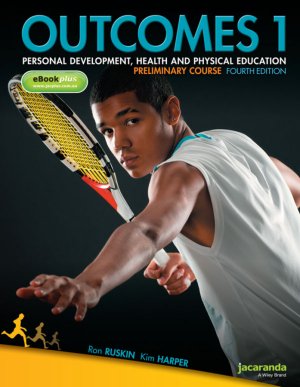 Title information

| | |
| --- | --- |
| Author/s | Ruskin |
| ISBN13 | 9780730308713 |
| Pub date | July 2014 |
| Pages | 408 |
| RRP | $79.95 |
Add to cart
A new edition of Jacaranda Outcomes 1 PDHPE Preliminary Course 5e Print & eBookPLUS is coming in 2018. The trusted market leader is now updated with new content, trends, research and case studies to engage students of all abilities and help them achieve exam success. You will be able to purchase this title later this year. To learn more about the series visit the Jacaranda NSW Stage 6 PDHPE page.


Outcomes 1 Preliminary Course 4E with eBookPLUS delivers comprehensive, authoritative coverage of the PDHPE Stage 6 Syllabus, providing questions and applications to encourage inquiry and skills development.
KEY FEATURES
• Formative preparation for the challenging HSC year through summaries, quizzes, revision tests and HSC-style questions.
• Comprehensive coverage of the 2009 Stage 6 Syllabus by reliable and respected authors.
• Both Core and Options chapters have been updated, particularly the statistics in tables, graphs and text in Preliminary Core 1.
• Preliminary Option 2 Composition and performance now available as an online only chapter.
• High quality illustrative material, particularly in Core 2.
• First Aid Option 1 updated to reflect current practice (DRSABCD).
• New Snapshots and case studies.
• New inquiry and application questions.
Outcomes 1 Preliminary Course 4th Edition and eBookPLUS is a hard-copy student text accompanied by eBookPLUS.




> eBookPLUS resource includes:

• Access from any digital device PC/MAC/iPad/Android Tablet.
• Worksheets - Word documents designed for easy customisation and editing.
• Interactivities and games to reinforce and enhance student learning.
• eLessons - engaging video clips and supporting material.
• Weblinks to relevant support material on the internet.
• ProjectsPLUS - unique ICT-based projects that provide opportunities for students to demonstrate creativity, thinking skills and teamwork.
• eBookPLUS resources are cost effective, ranging in price from $25.95 - $53.95 depending on your subject area.
Preface vii
About eBookPLUS viii
Acknowledgements ix

Preliminary core 1
Better health for
individuals 1

1 What does health mean to individuals? 3

Meanings of health 4
Definitions of health 4
Dimensions of health 5
Relative and dynamic nature of health 9
Perceptions of health 12
Perceptions of our health 12
Perceptions of the health of others 13
Implications of different perceptions of health 15
Perceptions of health as social constructs 17
Impact of the media, peers and family 20
Health behaviours of young people 26
The positive health status of young people 26
Protective behaviours and risk behaviours 31

2 What influences the health of individuals? 55

The determinants of health 56
Individual factors 57
Sociocultural factors 61
Socioeconomic factors 69
Environmental factors 75
The degree of control individuals can exert
over their health 84
Modifiable and non-modifiable health
determinants 85
Changing influence of determinants through
different life stages 89
Health as a social construct 93
The interrelationship of determinants 93
Challenging the notion that health is solely an
individual's responsibility 94

3 What strategies help to promote the health of individuals? 99

What is health promotion? 100
Responsibility for health promotion 102
Individuals 103
Community groups and schools 105
Non-government organisations 108
Government 109
International organisations 113
Health promotion approaches and strategies 115
Lifestyle and behavioural approaches 115
Preventative medical approaches 117
Public health approaches 118
The Ottawa Charter as an effective health
promotion framework 123
Developing personal skills 124
Creating supportive environments 125
Strengthening community actions 125
Reorienting health services 126
Building healthy public policy 126
Principles of social justice 129
Equity 129
Diversity 131
Supportive environments 131

Preliminary core 2

The body in motion 135

4 Body systems and movement 137

Skeletal system 138
Major bones involved in movement 140
Structure and function of synovial joints 142
Joint actions 144
Muscular system 147
Major muscles involved in movement 149
Muscle relationship 152
Types of muscle contraction 153
Respiratory system 155
Structure and function 155
Lung function 157
The exchange of gases 158
Effect of physical activity on respiration 159
Circulatory system 160
Components of blood 160
Structure and function of the heart, arteries, veins
and capillaries 162
Pulmonary and systemic circulation 166
Blood pressure 167

5 Physical fitness, training and movement efficiency 175

Health?]related components of physical
fitness 176
Cardiorespiratory endurance 177
Muscular strength 181
Muscular endurance 183
Flexibility 185
Body composition 187
Skill-related components of physical
fitness 190
Power 190
Speed 192
Agility 193
Coordination 195
Balance 197
Reaction time 198
Aerobic and anaerobic training 204
Aerobic training 204
FITT principle 205
Anaerobic training 208
Immediate physiological responses to
training 211
Heart rate 212
Ventilation rate 213
Stroke volume 214
Cardiac output 215
Lactate levels 217

6 The biomechanics of human movement 223

Introduction to biomechanics 224
Motion 224
Linear motion 224
Velocity 226
Speed 226
Acceleration 228
Momentum 229
Balance and stability 231
Centre of gravity 231
Line of gravity 234
Base of support 235
Fluid mechanics 237
Flotation 237
Centre of buoyancy 239
Fluid resistance 240
Force 248
How the body applies force 248
How the body absorbs force 250
Application of force on an object 252

Options 259

7 First aid 261

Setting priorities for managing a first aid situation
and assessing the casualty 262
Situational analysis 262
Priority assessment procedures 263
DRSABCD 264
STOP regime 270
Crisis management 272
CPR 272
Bleeding 272
Shock 272
Neck and spinal injury 273
Moving the casualty 273
FMPrelims.indd 4 24/06/14 9:58 AM
contents v
Medical referral 274
Care of the unconscious casualty 274
Management of injuries 275
Applying bandages, slings and splints 277
Management of medical conditions 279
Physical environment 282
Traffi c accidents 282
Water environment 283
Electricity 283
Infection control and protection 284
HIV/AIDS 284
Blood-borne viruses (hepatitis B and C) 285
Legal and moral dilemmas 285
Legal implications 285
Moral obligations 287
Commonsense versus heroics 288
Support following fi rst aid situations 288
Debriefi ng 288
Counselling 289

8 Composition and performance 


9 Fitness choices 291
Meanings of exercise 292
Exercise as a form of physical activity 293
Exercise and its relationship to fitness 296
The value that people place on exercise and fitness 298
Changing attitudes to fitness 298
Fitness as a commodity 300
Individual fitness activities 303
Power walking 304
Running 304
Swimming 305
Cycling 305
Weight training programs 307
Tai chi 308
Pilates 309
Yoga 309
Emerging individual fitness activities 309
Group fitness activities 311
Aerobics 311
Aquarobics 311
Pump classes 312
Step classes 313
Spin classes 313
Circuit training 313
Team games 314
Exercise for specifi c groups 315
Emerging group fi tness activities 318
Settings for exercise 318
Exercise at home 319
Community facilities 319
Fitness centres and personal trainers 319
Exercise clubs 323
Cultural groups 324
Advertising and promotion 324
How do you know who to believe? 325
Promotional techniques 325
Accuracy of information 325
Ethics of advertising 326
Motivators and barriers to participation 327
Access to facilities 327
Convenience of use 327
Cost 328
Feelings about fi tness and exercise 328
Exercise as a priority 328
Infl uence of other responsibilities 328

10 Outdoor recreation 331

Reasons for participation in outdoor recreation 332
Stress management and relaxation 332
Enjoyment, challenge and excitement 333
Social interaction 335
Appreciation of the environment 335
Health and fi tness 336
Planning skills 336
Environmental planning 337
Emergency management planning 337
Food and water considerations 341
Resources for safe participation 344
Legal and administrative requirements 344
Camp site selection 349
Geographic, environmental and climatic
considerations for establishing a camp site 349
Tree fall evaluation 351
Conservation skills 352
'Leave no trace' camping 354
ONLINE ONLY
Minimal impact practices 354
Ethical issues 355
Navigational skills 357
Check list for navigation 357
Map reading 357
Grid bearings 360
Magnetic bearing 361
Measuring distance 364
Natural navigation 364
Emergency management skills 365
Wilderness first aid 365
What to do when you are lost 367
Bushfire procedures 367
Lightning 368
Flooded rivers 368
Skills needed for other outdoor activities relevant to
the experience 369
Leadership styles 371
Understanding group dynamics 372
Conflict resolution 373
Team building 373
Cooperation 373
Facilitation skills 374
Communication skills 374
Decision making 374
Flexibility 374
Understanding strengths and weaknesses 376
Participant readiness 376
Self?]efficacy 376
Balancing challenge and safety 376
Pushing the comfort zone 377

Appendix 1 381
Ottawa Charter for Health Promotion 381

Appendix 2 384

Syllabus key words 384
Glossary 387