Maths Quest 7 for Victoria Australian Curriculum Edition & LearnON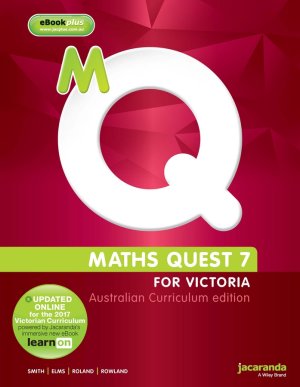 Title information

| | |
| --- | --- |
| Author/s | Smith |
| ISBN13 | 9780730311942 |
| Pub date | July 2014 |
| Pages | 720 |
| RRP | $69.95 |
Add to cart
Jacaranda will be publishing a new print edition of Jacaranda Maths Quest 7 for the Victorian Curriculum in 2017 for use in 2018. The updated title will be as print and will include an activation code for learnON, the immersive digital learning platform. Please visit the
Jacaranda Victorian Curriculum Mathematics page
for more information.

Maths Quest 7 for the Victorian Curriculum with learnON
is a combined print and digital product that includes the familiar Maths Quest 7 printed textbook (2014 Edition) and an activation code for learnON, Jacaranda's immersive new eBook, which has been updated for the 2017 Victorian Curriculum: Mathematics. The new eBook also includes additional teacher resources such as quarantined questions and answers, curriculum grids and teacher notes –
no separate eGuide purchase is required.
1   Numeracy 1

2   Positive integers

3   Indices and primes

4   Rational numbers

5   Geometry

6   Decimals

7   Percentages

8   Algebra

9   Measurement

10  Probability

11  Numeracy 2

12  Positive and negative integers

13  Linear equations

14  Representing and interpreting data

15  Coordinates and the Cartesian place

16  Transformations

17  Views of 3-D shapes

18  Money

19  Numeracy 3