Science Quest 9 for Victoria Australian Curriculum Edition & LearnON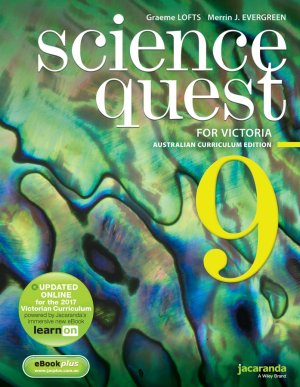 Title information

| | |
| --- | --- |
| Author/s | Lofts |
| ISBN13 | 9780730313267 |
| Pub date | October 2014 |
| Pages | 432 |
| RRP | $69.95 |
Add to cart
Jacaranda will be publishing a new print edition of Jacaranda Science Quest 9 for the Victorian Curriculum in 2017 for use in 2018. The updated title will be as print and will include an activation code for learnON, the immersive digital learning platform. Please visit the
Jacaranda Victorian Curriculum Science page
for more information.

Science Quest 9 Australian Curriculum Victorian Edition with learnON
is a combined print and digital product that includes the familiar Science Quest 9 printed textbook (2014 Edition) and an activation code for learnON, Jacaranda's immersive new eBook, which has been updated for the 2017 Victorian Curriculum: Science. The new eBook also includes additional teacher resources such as quarantined questions and answers, curriculum grids and teacher notes –
no separate eGuide purchase is required.
About this Book
Preface
Acknowledgements
Chapter 1 Science is...

Chapter 2 Control and Coordination

Chapter 3 Systems Working Together

Chapter 4 The Body at War

Chapter 5 Ecosystems-Flow of Energy and Matter

Chapter 6 Inside the Atom

Chapter 7 Chemical Reactions

Chapter 8 The Dynamic Earth

Chapter 9 Energy Transformations
Chapter 10 Heat and Electricity

Glossary
Index