Retroactive 9 Australian Curriculum for History Student Workbook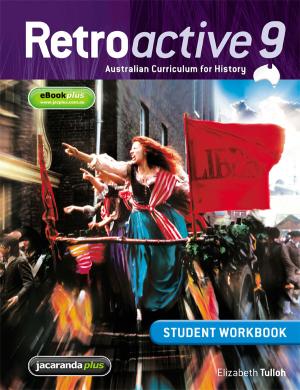 Title information

| | |
| --- | --- |
| Author/s | Harnwell |
| ISBN13 | 9780730338772 |
| Pub date | November 2012 |
| Pages | 96 |
| RRP | $19.95 |
Add to cart
Retroactive 9 Australian Curriculum for History Student Workbook
is designed to deepen and enhance student learning with additional classroom or homework activities for each chapter.
FEATURES:
• Thinking tools worksheets that explore a range of helpful thinking tools
• Vocabulary worksheets to help students develop subject-specific language and terminology
• Visual learning worksheets help to foster visual literacy
• Summing up worksheets allow students to check their understanding of key content and concepts
• Looking back worksheets provide a structured way for students to reflect on the progress of their learning.
Worksheet answers and editable Word versions of the worksheets and other resources can be accessed online by teachers through the Retroactive 9 Australian Curriculum for History eGuidePLUS available online at the JacarandaPLUS website (www.jacplus.com.au).
Click to view Retroactive 9 Australian Curriculum for History eBookPLUS.

 Click here to view our range of 
History for the Australian Curriculum Value Packs
Introduction v
Acknowledgements vi
CHAPTER 1. Overview: the making of the modern world
Worksheet 1.1 The Industrial Revolution 1
Worksheet 1.2 The movement of peoples 3
Worksheet 1.3 European imperial expansion 5
Worksheet 1.4 Analysing a photograph 6
Worksheet 1.5 New ways of thinking 7
Worksheet 1.6 Crossword 8
Worksheet 1.7 Summing up 9
Worksheet 1.8 Reflection 10
CHAPTER 2. Progressive ideas and movements
Worksheet 2.1 Understanding historical debate 11
Worksheet 2.2 Analysing a visual source 13
Worksheet 2.3 Darwin and Darwinism 15
Worksheet 2.4 Equality for all 16
Worksheet 2.5 The rise and spread of imperialism 17
Worksheet 2.6 The rise and spread of nationalism 18
Worksheet 2.7 Socialism and socialists 19
Worksheet 2.8 A legacy of ideologies 21
Worksheet 2.9 Reflection 22
CHAPTER 3. The Industrial Revolution
Worksheet 3.1 Open fields are closed 23
Worksheet 3.2 Investigating a historical issue:'canal mania' 25
Worksheet 3.3 Textile technology 26
Worksheet 3.4 The power revolution 27
Worksheet 3.5 The Revolution spreads 28
Worksheet 3.6 The industrialisation of Australia 29
Worksheet 3.7 Ordinary people in extraordinary circumstances 30
Worksheet 3.8 Crossword 31
Worksheet 3.9 Summing up 32
Worksheet 3.10 Reflection 33
CHAPTER 4. Movement of peoples
Worksheet 4.1 Analysing statistics 35
Worksheet 4.2 Experiences of slaves 37
Worksheet 4.3 Impacts of slavery 38
Worksheet 4.4 Arrival day 39
Worksheet 4.5 Experiences of settlers 41
Worksheet 4.6 Experiences of Aborigines 42
Worksheet 4.7 The development of Australia 43
Worksheet 4.8 Crossword 44
Worksheet 4.9 Summing up 45
Worksheet 4.10 Reflection 46
CHAPTER 5. China and the world
Worksheet 5.1 The Middle Kingdom 47
Worksheet 5.2 Chinese society 49
Worksheet 5.3 Culture and beliefs 50
Worksheet 5.4 Put yourself in their shoes 51
Worksheet 5.5 The consequences of foreign contact 53
Worksheet 5.6 Every picture tells a story 54
Worksheet 5.7 Resistance to revolution 55
Worksheet 5.8 Crossword 57
Worksheet 5.9 Summing up 58
Worksheet 5.10 Reflection 59
CHAPTER 6. Making a nation
Worksheet 6.1 Discovery and settlement 61
Worksheet 6.2 Aboriginal contact 63
Worksheet 6.3 Chinese diary 64
Worksheet 6.4 Changing jobs and conditions 65
Worksheet 6.5 Marvellous Melbourne 67
Worksheet 6.6 Australian identity: comparing sources 69
Worksheet 6.7 Cartoon capers 71
Worksheet 6.8 Crossword 72
Worksheet 6.9 Summing up 73
Worksheet 6.10 Reflection 74
Chapter 7. World War I
Worksheet 7.1 War: When? Where? Why? Who? 75
Worksheet 7.2 Britain calls, Australia answers 77
Worksheet 7.3 In the trenches 78
Worksheet 7.4 Gallipoli and the Western Front 79
Worksheet 7.5 The home front 81
Worksheet 7.6 The conscription debate 83
Worksheet 7.7 Commemoration: analysing a photograph 85
Worksheet 7.8 Crossword 86
Worksheet 7.9 Summing up 87