Jacaranda World History Atlas eGuidePLUS (Online Purchase)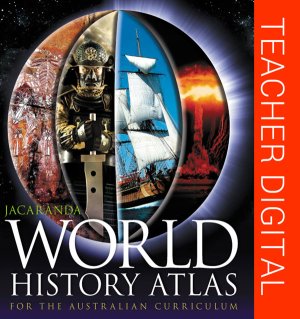 Title information

| | |
| --- | --- |
| Author/s | Burvill-shaw |
| ISBN13 | 9780730338994 |
| Pub date | January 2013 |
| Pages | 0 |
| RRP | $114.95 |
Add to cart
The
Jacaranda World History Atlas eGuidePLUS (Online Purchase)
provides instant supporting resources for teachers, to help them use the rich material in each spread of the
World History Atlas
, as well as to make teacher planning and preparation easier. This resource will be especially helpful for non-History-trained teachers as it contains numerous examples of ways teachers might use the material provided to teach students how to 'work historically'. Experienced teachers will find that the ability to edit all resources provides a highly flexible way of effectively using the
World History Atlas
to meet the very diverse needs of students in years 7 - 10.
It will be available to teachers online for use at school or at home.
The eGuidePLUS includes for each spread:or each spread:
• teaching advice and additional background information
• suggested learning activities
• answers to all Atlas student activities
• an editable student worksheet
• answers to all eGuidePLUS student worksheets
as well as
• selected downloadable blackline masters
• advice on using the Working Historically section
• curriculum grids that show at a glance the content descriptors each spread addresses.

What is onlinepurchase?
onlinepurchase is a Jacaranda digital only product.
Following payment you will receive a registration code via email.
Go to www.jacplus.com.au to register your code and access your digital resource.


UNIT 1 - The Ancient World ( c. 60,000BC - 500AD)
Chapter 1: Migrations around the world
Chapter 2: The Mediterranean world
Chapter 3: The Asian world
UNIT 2 - The Ancient to the Modern World (c. 500 - 1750AD)
Chapter 4: The Islamnic and Western world
Chapter 5: The Asia-Pacific
Chapter 6: Expanding horizons
UNIT 3 - The Modern World and Australia (to 1918)
Chapter 7: Making a better world?
Chapter 8: Australia in Asia
Chapter 9: Nations in conflict
UNIT 4 - Australia in the Modern World (1918 - present)
Chapter 10: Wartime experiences
Chapter 11: Rights and freedoms
Chapter 12: The globalising world