Dramatexts - Creative Practice for Senior Drama Students & eBookPLUS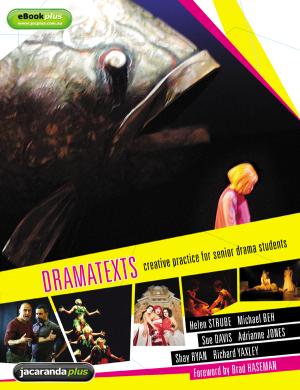 Title information

| | |
| --- | --- |
| Author/s | HELEN STRUBE|MICHAEL BEH|SUE DAVIS|ADRIANNE JONES|SHAY RYAN|RICHARD YAXLEY |
| ISBN13 | 9780731407194 |
| Pub date | November 2009 |
| Pages | 344 |
| RRP | $64.95 |
Add to cart
This exciting Drama text,
Dramatexts: Creative Practise for Senior Drama Students with eBookPLUS,
explores the way Drama is 'jumping spaces' from theatre to film to cyberspace, and is now supported by
eBookPLUS
and
eGuidePLUS
. Although it is based on the new senior Drama syllabus for Queensland, its cutting edge content will make it a sought-after resource for drama teachers everywhere.
Text Features


Strong contemporary approach
Emphasis on creative behaviours and drama practice
Drama in the real world examples
Contributions by drama practioners
Explores how heritage texts speak to modern texts
Case studies, interviews and extracts from plays
Dramatexts features eBookPLUS which is provided FREE with the textbook, but is also available for purchase separately. eBookPLUS is an electronic version of the textbook and a complementary set of targeted digital resources. These flexible and engaging ICT activities are available online at the jacarandaPLUS website (www.jacplus.com.au).

Your eBookPLUS resources include:
An on-line version of the entire text
Case studies
Weblinks to relevant sites and much more
Click here to view Dramatexts: Creative Practise for Senior Drama Students eBookPLUS.
Drama is .....
Antigone's child
Forgotten angels, applied theatre
A rose by any other name
Post-Brecht and far away
Stepping stones to Australian indigenous drama
Cracked and loose: surrealism and beyond
Post-modern theatricality
cyberdrama, storytelling and process drama for the digital age
Scriptwriting as contemporary creative practice
The autonomous actor
What is JacarandaPLUS?
JacarandaPLUS is the on-line home of all our digital resources for teachers and students.
For teachers, there's eGuidePLUS. This gives instant access to on-line versions of both student and teacher texts and supporting multimedia resources, making teacher planning and preparation easier!
Students also have access to engaging digital support via eBookPLUS. This gives 24/7 access to the on-line text along with a wealth of ICT resources making student learning more engaging!
All JacarandaPLUS websites that host the eBookPLUS and eGuidePLUS will be live by the end of 2008 for use in 2009.
For further information call 1800 JAC PLUS (1800 522 7587) or go to
http://www.jacplus.com.au/comingSoon.jsp