Photography Production and Appreciation 2E & eBookPLUS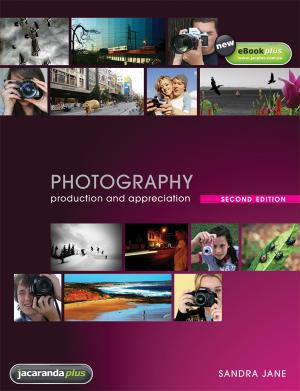 Title information

| | |
| --- | --- |
| Author/s | Jane |
| ISBN13 | 9780731407910 |
| Pub date | November 2008 |
| Pages | 280 |
| RRP | $74.95 |
Add to cart
The second edition of
Photography Production and Appreciation with eBookPLUS, 2nd Edition
provides a comprehensive, up-to-date resource for Years 7-10 students in the various art, photography and media courses across Australia. It is also an excellent reference work for students of these subjects in Years 11 and 12, as well as for those at tertiary level.
While the original features of the popular first edition have been retained, the second edition incorporates additional content that focuses directly on the processes and procedures of digital photography.
Photography Production and Appreciation 2E, brings students into the digital age while also respecting traditional photographic processes. Where appropriate, photographs in this edition are reproduced in full colour, to enhance student learning and appreciation. It is an indispensable text, filled with an exciting, innovative array of traditional and contemporary photographic works, both by professional artists and secondary school students. These images will provide inspiration and demonstrate to students what can be achieved in this imaginative and creative medium.
Features
Explains the use of both film and digital cameras
Discusses approaches to creating, exploring and developing ideas for photographic artworks
Teaches students about the significance of the design elements and principles in image making
Outlines how to present and preserve photographs
Demonstrates how to write about photographic artworks
Surveys in detail a number of significant Australian and international photographic artists
Includes a broad overview of the history of photography
Photography Production and Appreciation 2E eBookPLUS is an electronic version of the student textbook as well as a complementary set of targeted digital resources. These flexible and engaging ICT activities are available to you online at the JacarandaPLUS website (www.jacplus.com.au).

Your eBookPLUS resources include:
• the entire student textbook in electronic format
• HTML links to other useful support material on the internet
Click to view Photography Production and Appreciation 2E eBookPLUS.
Photography, Production and Appreciation 2E
PART 1 Making: using skills, techniques and processes
1. The camera and taking photographs
2. Darkroom processes and procedures
3. Digital processes and procedures
4. Developing and refining ideas
PART 2 Creating, exploring and developing ideas
5. Themes in art
PART 3 Presenting
6. Presenting photographs
7. Preservation, conservation and restoration
PART 4 Art criticism and aesthetics
8. Aesthetic elements in photography
9. Discussing and analysing photography
PART 5 Past and present context
10. History of photography
11. The history of Australian photography
12. A close-up look at significant photographers
PART 4 Gallery of student photographs
13. Gallery of student work
PART 7 General Information
14. Facts about photography
What is JacarandaPLUS?
JacarandaPLUS is the on-line home of all our digital resources for teachers and students.
For teachers, there's eGuidePLUS. This gives instant access to on-line versions of both student and teacher texts and supporting multimedia resources, making teacher planning and preparation easier!
Students also have access to engaging digital support via eBookPLUS. This gives 24/7 access to the on-line text along with a wealth of ICT resources making student learning more engaging!
All JacarandaPLUS websites that host the eBookPLUS and eGuidePLUS will be live by the end of 2008 for use in 2009.
For further information call 1800 JAC PLUS (1800 522 7587) or go to
http://www.jacplus.com.au