Physics 1 Preliminary Course 3E & eBookPLUS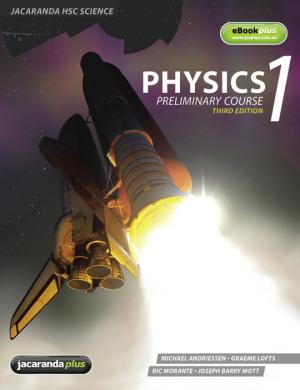 Title information

| | |
| --- | --- |
| Author/s | Andriessen |
| ISBN13 | 9780731408207 |
| Pub date | September 2008 |
| Pages | 336 |
| RRP | $84.95 |
Add to cart
Jacaranda will be publishing a 4th edition of Jacaranda Physics 11, available in 2017 to meet the requirements of the new Stage 6 Syllabus (2017). The updated title will be available as print with eBookPLUS or digital only. Please visit the Jacaranda Physics Stage 6 page for more information.
The third edition of
Physics 1 Preliminary Course and eBookPLUS 3rd Edition
is revised and updated to meet all the requirements of the amended Stage 6 Physics Syllabus. Written by a team of experienced Physics teachers, this text provides a firm base for the study of the topics in the second book in the series,
Physics 2 HSC Course 3E
.
Features
Full-colour, high quality, detailed illustrations to enhance students' understanding of Physics concepts
Clearly written explanations and sample problems
Interest boxes focusing on up-to-date information, current research and new discoveries
Practical activities at the end of each chapter to support the syllabus investigations
Chapter reviews that provide a summary and a range of problem-solving and descriptive questions
Physics 1 Preliminary Course 3E eBookPLUS is an electronic version of the student textbook as well as a complementary set of targeted digital resources. These flexible and engaging ICT activities are available to you online at the JacarandaPLUS website (www.jacplus.com.au).

Your eBookPLUS resources include:
• the entire student textbook in electronic format
• HTML links to other useful support material on the internet
• Word documents designed for easy customisation and editing
• interactive activities and a wealth of ICT resources
Click to view Physics 1 Preliminary Course 3E eBookPLUS.
Chapter 1: Waves: Movers of Energy
Chapter 2: Sound is a Wave
Chapter 3: Electromagnetic Waves and Communication
Chapter 4: Reflection and Refraction of Electromagnetic Waves
Chapter 5: Discovery and Development of Electrical Energy
Chapter 6: Electric Charges, Fields and Currents
Chapter 7: The Household Electricity Supply
Chapter 8: Using Electricity in the Home
Chapter 9: Describing Movement
Chapter 10: Force and Newton's Law of Motion
Chapter 11: Mechanical Interactions
Chapter 12: The Big-Bang Cosmology
Chapter 13: Star Light, Star Bright
Chapter 14: The Sun-Earth Connection
What is JacarandaPLUS?
JacarandaPLUS is the on-line home of all our digital resources for teachers and students.
For teachers, there's eGuidePLUS. This gives instant access to on-line versions of both student and teacher texts and supporting multimedia resources, making teacher planning and preparation easier!
Students also have access to engaging digital support via eBookPLUS. This gives 24/7 access to the on-line text along with a wealth of ICT resources making student learning more engaging!
All JacarandaPLUS websites that host the eBookPLUS and eGuidePLUS will be live by the end of 2008 for use in 2009.
For further information call 1800 JAC PLUS (1800 522 7587) or go to
http://www.jacplus.com.au