Outcomes 2 HSC Course 5E & eBookPLUS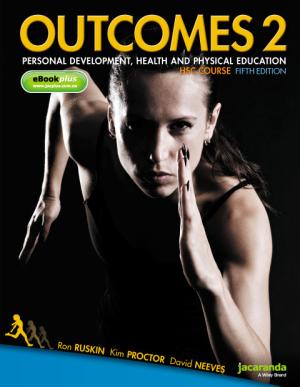 Title information

| | |
| --- | --- |
| Author/s | Ruskin |
| ISBN13 | 9781118598962 |
| Pub date | July 2013 |
| Pages | 608 |
| RRP | $79.95 |
Add to cart
A new edition of Jacaranda Outcomes 2 PDHPE HSC Course 6e Print & eBookPLUS + studyON is coming in 2018. The trusted market leader is now updated with new content, trends, research and case studies to engage students of all abilities and help them achieve exam success. You will be able to purchase this title later this year. To learn more about the series visit the Jacaranda NSW Stage 6 PDHPE page.


Outcomes 2 HSC Course 5E with eBookPLUS offers comprehensive, authoritative coverage of the PDHPE Stage 6 Syllabus provided by reliable and respected authors. The tailored questions and applications provided in this latest edition in the series encourage inquiry and challenge students to develop their skills.
KEY FEATURES
• Updates to the content, reflecting recent health/performance trends
• Extra revision/extension inquiry/applicationquestions, reinforcing use of keywords
• New Snapshots and case studies
• Enhanced information on syllabus areas
• StudyON icons, prompting further research or exam practice
• Addition of mark values end-of-chapter questions

Outcomes 2 HSC Course 5E & eBookPLUS is a hard copy of the student text, accompanied by eBookPLUS.


> eBookPLUS resources include:
• Access from any digital device PC/MAC/iPad/Android Tablet.
• Worksheets - Word documents designed for easy customisation and editing.
• Interactivities and games to reinforce and enhance student learning.
• eLessons - engaging video clips and supporting material.
• Weblinks to relevant support material on the internet.
• ProjectsPLUS - unique ICT-based projects that provide opportunities for students to demonstrate creativity, thinking skills and teamwork.
Preface vii
About eBookPLUS viii
Acknowledgements ix
HSC Core 1 Health priorities in Australia 1
Chapter 1 - How are priority issues for Australia's health identfied? 3
Chapter 2 - What are the priority issues for improving Australia's health? 23
Chapter 3 - Role of health-care facilities and services in achieving better health 81
Chapter 4 - Actions required to address Australia's health priorities 111

HSC Core 2 Factors Affecting Performance 131
Chapter 5 - How does training affect performance? 133
Chapter 6 - Psychology and performance 185
Chapter 7 - Nutrition, recovery strategies and performance 211
Chapter 8 - Skill and performance 237
Chapter 9 - The health of young people 273
Chapter 10 - Sport and physical activity in Australian society 349
Chapter 11 - Sports medicine 395
Chapter 12 - Improving performance 449
Chapter 13 - Equity and health 513
Appendix 1 Techniques, hints and practice exam 567
Appendix 2 576

Glossary 579
Index 587