Retroactive 2 NSW Australian Curriculum History Stage 5: The Making of the Modern World and Australia & eBookPLUS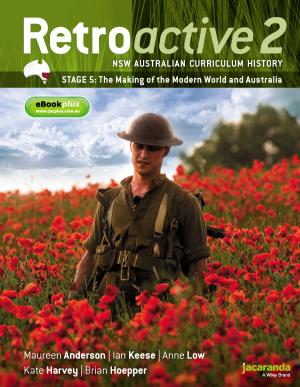 Title information

| | |
| --- | --- |
| Author/s | Anderson |
| ISBN13 | 9781118599273 |
| Pub date | November 2013 |
| Pages | 496 |
| RRP | $84.95 |
Add to cart
Jacaranda will be publishing a 2nd edition of Jacaranda Retroactive 2 Stage 5 for the NSW Australian curriculum in 2017 for use in 2018. The updated title will be available as print or a new eBook powered by learnON, the immersive digital learning platform. Please visit the Jacaranda NSW Australian curriculum History page for more information.

Retroactive 2 NSW Australian curriculum History Stage 5 The Making of the Mordern World and Australia with eBookPLUS

The Retroactive series continues to set the standard in providing a complete resource package for the New South Wales 7-10 History Syllabus. Fully updated and with engaging new content to comprehensively address the requirements of the new NSW syllabus for the Australian curriculum, the Retroactive text and eBookPLUS provide in-depth coverage of every Overview and Depth Study topic – including two starter units for School Developed Topics on The Holocaust and Australia in the Vietnam War era – allowing teachers and students to choose the studies they wish to explore.
With stunning visual appeal and exciting digital resources, and supplemented by quality teacher resources in the eGuidePLUS, the Retroactive series is designed to fully support teachers and engage and inspire students.
The Retroactive series develops students' understanding of key historical concepts and inquiry skills. Students and teachers can be assured of a comprehensive and authoritative coverage of the Stage 5 'The making of the Modern World and Australia' content and historical skills.
Features of Retroactive 2 Australian curriculum History - Stage 5: The Making of the Modern World and Australia include:
• In-depth coverage of all syllabus content
• Integrated history skills, including a varied and stimulating range of source-based activities, plus a Skill builder feature within topics to develop students' skills in historical inquiry
• Content in manageable, thematically organised sections that link directly to syllabus points
• Clear text with a strong literacy focus
• Glossary terms defined on the page at point of use
• Detailed and clearly labelled colour diagrams and artwork
• End of topic Practise your historical skills sections that provide activities for each of the syllabus' key historical skills
• Retrofile features to showcase high-interest facts
• Links to the Jacaranda World History Atlas


eBookPLUS
Retroactive 2 Australian curriculum History - Stage 5: The Making of the Modern World and Australia features eBookPLUS - provided FREE with the textbook, but also available for separate purchase. eBookPLUS is a digital version of the textbook plus a complementary set of engaging, targeted digital resources.
Your eBookPLUS resources include:
• an Australian video series, with accompanying worksheets, that specifically introduces the Overview content of the new curriculum
• Depth Study topics: Progressive ideas and movements, The environment movement, and two starter units for School-developed topics on The Holocaust and Australia in the Vietnam War era
• a range of eLessons and interactivities to enhance students' learning - including new, highly visual interactive timelines that help students sequence key historical events
• Interactive crosswords to test and consolidate learning of key terms within topics
• Interactive end of topic quizzes with immediate feedback to students and the ability to email results to teachers
• Student worksheets for all Depth Studies and Overview content
• ProjectsPLUS – ICT-based Depth Study topic projects that use an innovative research management system, featuring video introductions, media and templates to guide student research
• Weblinks to support material on the internet
• Smart Links to the myWorld History Atlas, with access to historical case studies, interactive maps, videos, interactive chronologies and over 1000 interactive questions
About Retroactive viii
About the authors xi
About eBookPLUS xii
Inside your Retroactive eBookPLUS xiii
Acknowledgements xiv
OVERVIEW 1 THE MAKING OF THE MODERN WORLD 2
OV1:1 The Industrial Revolution — nature and significance 4
OV1:2 The movement of peoples 10
OV1:3 European imperial expansion 15
OV1:4 Economic, social and political ideas of the modern world 20
OV1:5 Between the World Wars 27
ProjectsPLUS 34
DEPTH STUDY 1
MAKING A BETTER WORLD? 36
TOPIC 1a The Industrial Revolution 38
1a:1 Background 40
1a:2 The importance of Empire 44
1a:3 Improvements in agriculture 46
1a:4 The importance of cotton 49
1a:5 The age of coal and iron 52
1a:6 Transport 55
1a:7 The impact on Australia 58
1a:8 Changing ways of life 62
1a:9 The global impact 66
Practise your historical skills 70
TOPIC 1b Movement of peoples 72
1b:1 Infl uence of the Industrial Revolution 74
1b:2 Experiences of slaves 81
1b:3 Impacts of slavery 89
1b:4 Experiences of convicts 92
1b:5 Experiences of settlers 98
1b:6 Impacts of European settlement on
Aboriginal people 102
1b:7 Impacts of settlement — the development of
Australia 108
Practise your historical skills 110
ProjectsPLUS 112
TOPIC 1c
Progressive ideas and movements
1c:1 Emerging ideas and movements
1c:2 Capitalism
1c:3 Chartism — 1836–1860
1c:4 Darwinism
1c:5 Egalitarianism
1c:6 Imperialism
1c:7 Nationalism
1c:8 Socialism
Practise your historical skills
ONLINE ONLY
DEPTH STUDY 2
AUSTRALIA AND ASIA 114
TOPIC 2a Making a nation 116
2a:1 Expansion of settlement 118
2a:2 Indigenous contact experiences 124
2a:3 Non-European experiences 128
2a:4 Living and working conditions 133
2a:5 Self-government and democracy 142
2a:6 Indigenous and women's rights 151
2a:7 Social legislation 154
Practise your historical skills 160
ProjectsPLUS 162
TOPIC 2b China and the world 164
2b:1 China — the Middle Kingdom 166
2b:2 Traditional Chinese society 168
2b:3 The leadership of the Dragon Throne 172
2b:4 Chinese culture and beliefs 174
2b:5 Contact, confl ict and change 177
2b:6 Empress Dowager Cixi 185
2b:7 China in the modern world 186
Practise your historical skills 194
DEPTH STUDY 3 AUSTRALIANS AT WAR (WORLD WARS I AND II) 196
TOPIC 3a World War I 198
3a:1 The origins of World War I 200
3a:2 Australia's involvement 204
3a:3 The Gallipoli campaign 208
3a:4 The Western Front 218
3a:5 Prisoners of war 223
3a:6 The home front 226
3a:7 Conscription: Australia divided 236
3a:8 War's impact on soldiers and civilians 243
3a:9 Commemorating World War I 246
3a:10 The Anzac legend 248
Practise your historical skills 252
ProjectsPLUS 254
TOPIC 3b World War II 256
3b:1 The origins of World War II 258
3b:2 The European war begins 268
3b:3 War in North Africa and the Mediterranean 271
3b:4 The Eastern Front 275
3b:5 The Holocaust 277
3b:6 The Pacifi c 280
3b:7 Prisoners of war 288
3b:8 Ending the war 290
3b:9 The home front 294
3b:10 The changing roles of women 302
3b:11 Signifi cance, impact and
commemoration 308
3b:12 International relationships 314
Practise your historical skills 316
ProjectsPLUS 318
OVERVIEW 2
THE MODERN WORLD AND AUSTRALIA 320
OV2:1 Australia after 1945 — war and peace 322
OV2:2 The fi ght for rights and freedoms 324
OV2:3 The Cold War and beyond 330
OV2:4 A developing world 338
DEPTH STUDY 4 RIGHTS AND FREEDOMS 348
4:1 The UN and the UDHR 350
4:2 Early Aboriginal activism 354
4:3 The Stolen Generations 358
4:4 The Civil Rights Movement 364
4:5 Charles Perkins and the 1965 Freedom
Ride 372
4:6 Civil rights in Australia in the 1960s 378
4:7 Land rights and Mabo 383
4:8 Bringing them home 387
4:9 The Apology 390
4:10 Securing civil rights and freedoms 392
Practise your historical skills 396
ProjectsPLUS 398
DEPTH STUDY 5 THE GLOBALISING WORLD 400
TOPIC 5a Popular culture 402
5a:1 Popular culture at the end of
World War II 404
5a:2 Changes in the post-war period 407
5a:3 Infl uences from the US and Britain 410
5a:4 The impact of television and communication technologies 419
5a:5 Contributions to international sport 424
5a:6 Contributions to music, fi lm and television 430
5a:7 Continuity and change in beliefs and values 434
Practise your historical skills 436
ProjectsPLUS 438
TOPIC 5b
The environment movement
5b:1 Two stories about sustainability
5b:2 The background to environmental awareness
5b:3 The intensifi cation of environmental effects
5b:4 Growth and infl uence of the environment movement
5b:5 Signifi cant events and campaigns
5b:6 National and international action
Practise your historical skills
ONLINE ONLY
TOPIC 5c Migration experiences 440
5c:1 Post–World War II migration and world events 442
5c:2 Government policies and patterns of migration 445
5c:3 Hardship and hostels 455
5c:4 The impact of world events on immigration to
Australia 461
5c:5 The migrant contribution to Australia 466
Practise your historical skills 474
DEPTH STUDY 6 SCHOOL-DEVELOPED TOPIC
TOPIC 6a The Holocaust
6a:1 The Nazi threat
6a:2 Using the law 1933–38
6a:3 The Kristallnacht,
9–10 November 1938
6a:4 The ghettos 1939–45
6a:5 The 'Final Solution'
6a:6 Aftermath and contestability
6a:7 What next?
ONLINE ONLY
TOPIC 6b
Australia in the Vietnam War era
6b:1 Crushing the communists in Australia
6b:2 Why did Australia fight in Vietnam?
6b:3 Australia divided — opposition to or support for the war
6b:4 The impact of the Vietnam War
6b:5 What next?
ProjectsPLUS
ONLINE ONLY
Index 476
Glossary
ONLINE ONLY