Healthy Body Cookbook eBookPLUS (Online Purchase)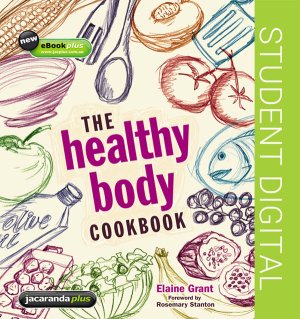 Title information

| | |
| --- | --- |
| Author/s | Grant |
| ISBN13 | 9781742163246 |
| Pub date | September 2009 |
| Pages | 0 |
| RRP | $24.95 |
Add to cart
The
Healthy Body Cookbook eBookPLUS
is an electronic version of the entire textbook and supporting materials. These flexible and engaging resources are available online at the JacarandaPLUS website (
www.jacplus.com.au
)
The eBookPLUS includes:
• an electronic version of the entire student textbook
• weblinks to the latest research and information
What is onlinepurchase?
Onlinepurchase is a Jacaranda digital only product.
Following payment you will receive a registration code via email.
Go to www.jacplus.com.au to register your code and access your digital resource.


Click here to view Healthy Body Cookbook Textbook & eBookPLUS.
PART 1: DISCOVERING THE KITCHEN
PART 2: YOUR AMAZING BODY
Chapter 1: Have a healthy heart
Chapter 2: The travelling blood show
Chapter 3: Muscular motions
Chapter 4: Long, strong bones!
Chapter 5: Look mum, no cavities!'
Chapter 6: Healthy skin, hair and nails
Chapter 7: No-stress nerves
Chapter 8: Moving through the digestive system
PART 3: STAYING HEALTHY
Chapter 9: Food choice models
Chapter 10: No more couch potato!
Chapter 12: Disease fighters Go for 2 and 5 a day'