Jacaranda Physics 2 3E eBookPLUS (Online Purchase)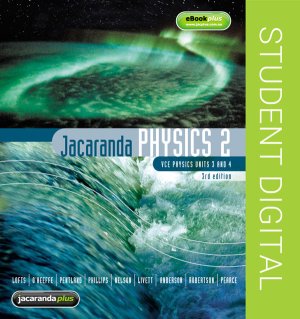 Title information

| | |
| --- | --- |
| Author/s | Lofts |
| ISBN13 | 9781742163390 |
| Pub date | September 2009 |
| Pages | 0 |
| RRP | $59.95 |
Add to cart
Jacaranda Physics 2 3E VCE Units 3 & 4 eBookPLUS
is an electronic version of the textbook and a complementary set of targeted digital resources. These flexible and engaging ICT activities are available online at the JacarandaPLUS website (
www.jacplus.com.au
).
The eBookPLUS includes:
the entire student textbook in electronic format
HTML links to other useful support material on the internet
Word documents designed for easy cutsomisation and editing
interactive activities and a wealth of ICT resources
What is onlinepurchase?
Onlinepurchase is a Jacaranda digital only product.
Following payment you will receive a registration code via email.
Go to www.jacplus.com.au to register your code and access your digital resource.
Click here to view Jacaranda Physics 2 3E VCE Units 3 & 4 Textbook & eBookPLUS.
Chapter 1: Forces in Action
Chapter 2: Collisions
Chapter 3: Projectile and Circular Motion
Chapter 4: Electronics
Chapter 5: Introductory Photonics
Chapter 6: Relativity Before Einstein
Chapter 7: A New Relativity
Chapter 8: Investigating Materials
Chapter 9: Electronics at Work
Chapter 10: Magnetism- Fields and Forces
Chapter 11: Generating Electricity
Chapter 12: Transmission of Power
Chapter 13: Light- Waves and Particles
Chapter 14: Matter- Particles and Waves
Chapter 15: The Australian Synchrotron
Chapter 16: Light and Light- Emitting Devices
Chapter 17: Fibre-Optic Waveguides and Systems
Chapter 18: Background Sound
Chapter 19: Sounding Good