Artwise 2 Visual Arts 9-10 2E & eBookPLUS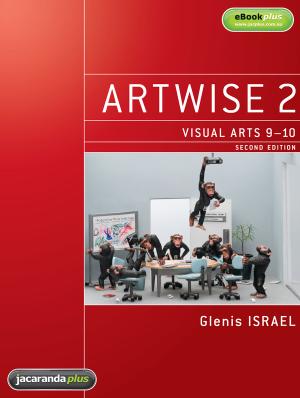 Title information

| | |
| --- | --- |
| Author/s | Israel |
| ISBN13 | 9781742163505 |
| Pub date | September 2010 |
| Pages | 264 |
| RRP | $84.95 |
Add to cart
This new edition of
Artwise 2: Visual Arts 9-10 with eBookPLUS, 2nd Edition
is specifically written for Stage 5 Visual Arts in New South Wales. It provides a stimulating resource for students in Years 9 and 10, with a broad range of Australian and international artists, and a balance of traditional and contemporary examples.
Artists' studies are organised in four sections: The Frames, Conceptual Framework, Contemporary Artists' Practice and Historical Art Periods/Styles. Features and content in each artists' study are designed to:
• consolidate students' understanding of the frames
• further develop students' understanding of the Conceptual Framework and the relationships that are most relevant in the artworld
• provide insights into artmaking practice through artists' statements and descriptions of techniques, media and ideas
• develop skills in interpreting and writing about art, with descriptions of artworks and introductions to artists (Critical study and Historical study), extracts of thought-provoking art critical and art historical writing (Critical practice and Historical practice), and a range of student activities (eg, Studying art, Artmaking).
Artwise 2, Second Edition
is now fully supported by eBookPLUS.
Artwise 2, Second Edition eBookPLUS is an electronic version of the textbook and a complementary set of targeted digital resources. The eBookPLUS features weblinks, interactive vocabulary builders, and eLessons that pair video and audio interviews with related worksheets.

These flexible and engaging ICT activities are available online at the JacarandaPLUS website (www.jacplus.com.au).
Click here to view Artwise 2: Visual Arts 9-10, 2nd Edition eBookPLUS.

1. Subjective Frame.
2. Structural Frame.
3. Cultural Frame.
  War and violence.
  Cultural identity - gender, race, beliefs.
  Poverty, family values.
4. Postmodern Frame.
  Challenging conventions - the art object and its exhibition.
  Popular culture, mass media, feminism.
  Appropriation.
  Technology.
5. Conceptual Framework.
6. Contemporary artists' practice.
  Drawing.
  Painting.
  Digital - Photography/Video/Virtual.
  Printmaking.
  Sculpture/Ceramics.
  Architecture.
7. Greek and Renaissance art.
  Greek art.
  Proto and Early Renaissance art.
  High Renaissance art.
8. Modernism.
  Painting.
  Sculpture.
9. Modern architecture and design (1880-).
  Architecture and furniture design.