Senior Geography for Queensland Book 2 2E eBookPLUS (Online Purchase)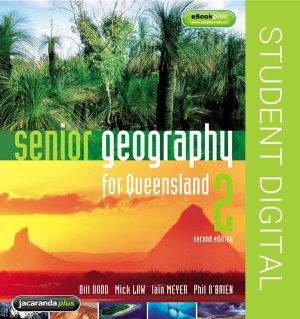 Title information

| | |
| --- | --- |
| Author/s | Meyer |
| ISBN13 | 9781742164182 |
| Pub date | September 2009 |
| Pages | 0 |
| RRP | $49.95 |
Add to cart
Senior Geography for Queensland 2 2E eBookPLUS
is an electronic version of the textbook and a complementary set of targeted digital resources. These flexible and engaging ICT activities are available to you online at the JacarandaPLUS website (
www.jacplus.com.au
).
Your eBookPLUS Features
Full copy of the text in html format
GIS resource
A guide to downloading ESRI's free ArcExplorer: Java Edition for Education Version 3 Edition software (AEJEE)
A step by step guide for teachers and students introducing AEJEE
GIS modules on sustaining Biodiversity, People & Development and Exploring the Geography of Disease with student worksheets
A glossary of the language of GIS
 
What is onlinepurchase?
Onlinepurchase is a Jacaranda digital only product.
Following payment you will receive a registration code via email.
Go to www.jacplus.com.au to register your code and access your digital resource.

Click to view  Senior Geography for Queensland 2 2E Textbook & eBookPLUS.
Chapter 1: Resources and Environment
Chapter 2: Living with Climate Change
Chapter 3: Sustaining Biodiversity
Chapter 4: People and Development
Chapter 5: Feeding the World's People
Chapter 6: Exploring the Geography of Disease