Artwise 2 Visual Arts 9-10 2E eBookPLUS (Online Purchase)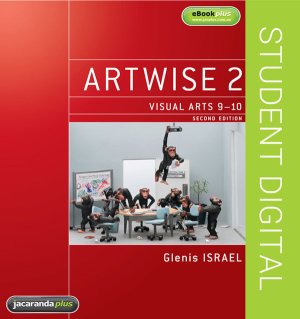 Title information

| | |
| --- | --- |
| Author/s | Israel |
| ISBN13 | 9781742462257 |
| Pub date | October 2010 |
| Pages | 0 |
| RRP | $54.95 |
Add to cart
Artwise 2, Second Edition
eBookPLUS
is an electronic version of the textbook and a complementary set of targeted digital resources. The eBookPLUS features weblinks, interactive vocabulary builders, and eLessons that pair video and audio interviews with related worksheets.
What is onlinepurchase?
onlinepurchase
is a Jacaranda digital only product.
Following payment you will receive a registration code via email.
Go to
www.jacplus.com.au
to register your code and access your digital resource.
Click here to view Artwise 2 Visual Arts 9 -10 2nd Edition Textbook & eBookPLUS.
1. Subjective Frame.
2. Structural Frame.
3. Cultural Frame.
  War and violence.
  Cultural identity - gender, race, beliefs.
  Poverty, family values.
4. Postmodern Frame.
  Challenging conventions - the art object and its exhibition.
  Popular culture, mass media, feminism.
  Appropriation.
  Technology.
5. Conceptual Framework.
6. Contemporary artists' practice.
  Drawing.
  Painting.
  Digital - Photography/Video/Virtual.
  Printmaking.
  Sculpture/Ceramics.
  Architecture.
7. Greek and Renaissance art.
  Greek art.
  Proto and Early Renaissance art.
  High Renaissance art.
8. Modernism.
  Painting.
  Sculpture.
9. Modern architecture and design (1880-).
  Architecture and furniture design.