Senior Artwise Visual Arts 11-12 Second Edition eBookPLUS (Online Purchase)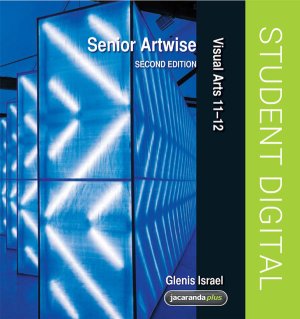 Title information

| | |
| --- | --- |
| Author/s | Israel |
| ISBN13 | 9781742462431 |
| Pub date | September 2010 |
| Pages | 0 |
| RRP | $59.95 |
Add to cart
Senior Artwise Second Edition eBookPLUS
 is an electronic version of the textbook and a complementary set of targeted digital resources. These flexible and engaging ICT activities are available to you online at the JacarandaPLUS website (
www.jacplus.com.au
).
Your eBookPLUS resources include:
video eLessons and related worksheets
graphic organiser templates
weblinks to other support material on the internet
 What is onlinepurchase?
onlinepurchase is a Jacaranda digital only product.
Following payment you will receive a registration code via email.
Go to www.jacplus.com.au to register your code and access your digital resource.
Click to view Senior Artwise Visual Arts 11-12  Second Edition Textbook & eBookPLUS.
1. Nature
Eugène von Guérard
Fiona Hall
Houssein Valamanesh
Janet Laurence
Emily Kam Kngwarreye
Andy Goldsworthy

2. Abstraction
Mark Rothko
Jackson Pollock
Marion Borgelt
Jonathan Jones

3. The imagination
Francisco de Goya
Marc Chagall
James Gleeson
Peter Booth

4. The figure
Piero della Francesca
Titian
Édouard Manet
Willem de Kooning
Cindy Sherman
Vanessa Beecroft
Ms and Mr

5. Technology
Bill Viola
Tony Oursler
Stelarc
Patricia Piccinini

6. Cultural commentary
Anselm Kiefer
Jean-Michel Basquiat
Gordon Bennett
Claire Healy and Sean Cordeiro
Xu Bing
Ai Weiwei

7. Architecture
Zara Hadid
Norman Foster
Herzog & de Meuron