StudyOn Chemistry 2 2E & eBookPLUS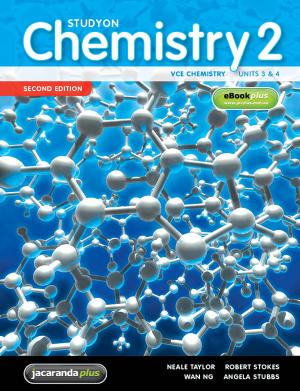 Title information

| | |
| --- | --- |
| Author/s | Taylor |
| ISBN13 | 9781118498125 |
| Pub date | November 2012 |
| Pages | 464 |
| RRP | $92.95 |
Add to cart
Chemistry 2 Second Edition has been revised and enhanced to specifically include the latest VCAA study design updates. The Chemistry 2 textbook also includes references to studyON VCE Chemistry Units 3 and 4, Jacaranda's online tool that features past VCAA exam questions, instant feedback, a progress tracker, videos and animations. studyON VCE Chemistry Units 3 and 4 is designed to help maximise exam results with study, revision and exam practice for students. This may be purchased separately or value-packed with the textbook.

KEY FEATURES

• content updates to reflect the latest VCAA Study Design updates
• running summaries throughout the text
• chapter review questions at the end of each chapter
• exam-style questions at the end of each chapter.
> eBookPLUS resources include:
• Access from any digital device PC/MAC/iPad/Android Tablet.
• Worksheets - Word documents designed for easy customisation and editing.
• Interactivities and games to reinforce and enhance student learning.
• eLessons - engaging video clips and supporting material.
• Weblinks to relevant support material on the internet.
• ProjectsPLUS - unique ICT-based projects that provide opportunities for students to demonstrate creativity, thinking skills and teamwork.
About eBookPLUS vii
How to use this book viii
Acknowledgements x
UNIT 3 Chemical pathways
CHAPTER 1 Introduction —
chemical analysis 2
Where is chemical analysis important? 3
Analysing consumer products 3
The environment 3
Sport 4
Law and government 5
Types of chemical analysis 5
Qualitative analysis 6
Quantitative analysis 6
Deciding on an analytical method 6
Chemical equations revisited 8
Writing chemical equations 8
An important note 9
Ionic equations 10
Reaction patterns 11
Some common types of chemical
reactions 12
Redox reactions 12
Revision — a summary of acid–base
reactions 13
Writing half-equations 14
Oxidation numbers — a valuable tool 15
Precipitation reactions 17
The mole concept 17
The role of stoichiometry in quantitative
analysis 18
Revision — calculating the number of
moles of a substance — a review of
formulae 19
Calculations involving excess reactants 20
Dilution of solutions 21
Chapter review 23
Exam practice questions 28
CHAPTER 2 Gravimetric analysis 29
Introduction 30
Analysing for water content 30
Extending the gravimetric method 31
Examining sources of error 34
Empirical and molecular formulae 35
Analysis in action — nailing a nail-polish
problem 36
Background 36
Quantitative analysis of the impurity 37
Chapter review 39
Exam practice questions 42
CHAPTER 3 Volumetric analysis 43
Volumetric analysis 44
Standard solutions 44
How do we know when to stop a titration? 45
Choosing a suitable indicator 46
More about these titration curves 48
Some examples of volumetric procedures 48
Back titrations — an important variation 51
Examining sources of error 53
Matching an analytical technique to a
particular task 54
Chapter review 55
Exam practice questions 59
CHAPTER 4 Instrumental methods of
analysis — chromatography 61
Identifying and measuring chemicals 62
Simple chromatographic techniques 62
Paper chromatography 62
Thin layer chromatography 63
Rf values 63
Instrumental analysis using chromatography 64
Common instrumental methods 65
Gas chromatography (GC) 65
When can gas chromatography be used? 66
High-performance liquid chromatography (HPLC) 67
Quantitative analysis using GC and HPLC 68
Chapter review 71
Exam practice questions 75
CHAPTER 5 Instrumental methods of
analysis — spectroscopy 79
Using spectroscopic techniques 80
Flame tests and spectra 80
Why does each element produce a different
spectrum? 80
Extension — Wavelength, frequency
and energy 81
Other qualitative techniques 82
Using light 82
Instrumental colorimetry 83
UV–visible spectroscopy 84
Atomic absorption spectroscopy (AAS) 85
Mass spectrometer 87
Other instrumental spectroscopic
methods 89
Infra-red spectroscopy 89
Nuclear magnetic resonance spectroscopy 95
Combining techniques 104
Chapter review 106
Exam practice questions 113
CHAPTER 6 Organic chemistry — naming
compounds 117
Carbon: a unique element 118
Organic chemistry 118
Saturated hydrocarbons: the
alkanes 120
Branched hydrocarbon chains and
isomers 121
Nomenclature: the system for naming
organic compounds 121
Unsaturated hydrocarbons: the alkenes 123
Unsaturated hydrocarbons: the alkynes 125
Functional groups 125
The alcohols and alkanols 126
Isomers of alkanols 127
Alkanoic acids 129
Amines 131
Haloalkanes 133
Importance of isomers of functional
groups 134
Chapter review 135
Exam practice questions 139
CHAPTER 7 Organic pathways 141
Bonding with organic compounds 142
Organic reactions 142
Combustion of alkanes and alkenes 143
Substitution reactions of alkanes 143
Addition reactions of alkenes 145
Reactions of haloalkanes 147
Reactions of alkanols 148
Ethanol 148
The industrial production of ethanol 149
Alkanoic acids 150
Esters 151
Formation of esters 151
Polyesters 152
Biofuels 153
Organic pathways 154
Biomolecules 155
Synthesis of lipids 158
Synthesis of proteins 160
Amino acids — building blocks of proteins 161
Zwitterions — the dipolar nature of amino acids 161
Formation of proteins 163
How enzymes work 165
The structure and action of enzymes 165
Factors affecting the catalytic activities of
enzymes 166
Digestion of complex carbohydrates,
lipids and proteins 168
What happens to digested protein? 173
Chapter review 174
Exam practice questions 179
CHAPTER 8 Living chemistry 181
Living chemistry 182
Ringed hydrocarbons 183
Nucleic acids 184
Reactions that form nucleic acid polymers 186
Design and synthesis of medicines 190
The story of aspirin 190
Relating molecular structure of medicinal
drugs to action 193
Chapter review 194
Exam practice questions 196
UNIT 4 Chemistry at work
CHAPTER 9 Reaction rates and equilibrium 198
Introduction 199
How does a chemical reaction occur? 199
Measuring reaction rates 200
Factors that affect the rate of a reaction 200
Concentration 200
Temperature 201
Catalysts 201
Catalytic converters — catalysts in car
exhausts 202
The effect of surface area 203
Exploding custard factories 203
Chemical equilibrium 204
The equilibrium law 205
The dynamic nature of equilibrium 206
Calculations involving the equilibrium
constant 207
Making changes to equilibrium mixtures 210
Adding or removing a substance that is involved
in the reaction 211
Explaining Le Chatelier's principle
mathematically 212
The effect of changing volume 213
The effect of changing temperature 215
The yield of a chemical reaction 216
Le Chatelier's principle and industrial
chemicals 218
Chapter review 219
Exam practice questions 225
CHAPTER 10 Further applications of
equilibrium 227
How common are equilibrium reactions? 228
pH — measuring the level of acidity 228
How do pH meters work? 229
Derivation of the pH scale 230
Calculations involving pH 231
The effect of temperature on Kw and pH 233
Home swimming pools, pH and equilibrium 233
Weak acids and weak bases 234
Polyprotic acids 235
Calculations involving Ka values 236
The difference between a strong and a
concentrated acid 237
Buffer solutions 237
Some important biological applications of
equilibrium 238
Transport of oxygen by the blood 238
Treating victims of carbon monoxide
poisoning 240
Maintaining the pH level of the blood 240
Chapter review 242
Exam practice questions 245
CHAPTER 11 Industrial chemistry 247
Making chemicals 248
Ammonia 248
Properties of ammonia 250
Uses of ammonia 250
Producing ammonia 251
Other considerations 253
Nitric acid 254
Properties of nitric acid 254
Uses of nitric acid 254
The Ostwald process 255
Sulfuric acid 257
Properties of sulfuric acid 258
The Contact process 259
The Frasch process 262
Chapter review 263
Exam practice questions 267
CHAPTER 12 Energy sources for society 269
Energy and fuels 270
What is energy? 270
Energy from common fuels 270
Energy use in society 273
Global energy use 273
Renewable and non-renewable resources 273
Choosing energy sources 275
Non-renewable fuels 276
Fossil fuels 276
Coal 276
Petroleum 277
Natural gas 277
Nuclear energy 278
Nuclear fusion 281
Renewable fuels 283
Solar energy 283
Energy from water 285
Wind power 288
Geothermal energy 288
Food or fuel — energy from biomass 289
Energy use and the environment — taking
responsibility 290
The effect of use of fossil fuels on the environment 290
Chapter review 293
Exam practice questions 299
CHAPTER 13 Thermal energy and chemical reactions 301
What is energy? 302
Different forms of energy 303
Energy conversions 304
Energy converters 305
Energy changes in chemical reactions 307
Exothermic and endothermic reactions 309
Activation energy — starting a reaction 310
Thermochemical equations 311
Measuring energy changes in chemical
reactions — calorimetry 314
Solution calorimeter 315
Bomb calorimeter 316
Heat loss in calorimeters 317
Chapter review 320
Exam practice questions 326
CHAPTER 14 Electricity from chemical reactions 327
Redox reactions 328
Frog power? 328
Redox half-equations and electrochemical cells 329
Galvanic cells in the laboratory 331
Types of half-cell 333
Standard electrode potentials 334
Use of standard half-cell reduction potentials 335
The unpredictability of the rate of electrochemical reactions 340
Redox chemistry 341
Oxidation of ethanol 341
Metal corrosion 341
Chapter review 342
Exam practice questions 346
CHAPTER 15 Electrochemical cells in action 349
Cells and batteries 350
Factors affecting selection of cells 350
Primary cells 351
The dry cell 351
The alkaline zinc/manganese dioxide cell 352
Button cells 353
Lithium cells 354
Secondary cells 356
The lead–acid accumulator 356
Fuel cells 362
How do fuel cells work? 362
Types of fuel cells 362
Chapter review 368
Exam practice questions 373
CHAPTER 16 Electrolysis 375
Metals through the ages 376
Electrolysis — the process 376
Electrolytic cells 377
Comparing galvanic and electrolytic cells 378
Electrolysis of molten ionic compounds 380
Electrolysis of water 381
Electrolysis of aqueous solutions of ionic compounds 381
Predicting reactions during electrolysis of aqueous solutions 381
Factors affecting electrolysis of aqueous
solutions 383
The effect of concentration 383
The nature of the electrolyte 384
The nature of the electrodes 384
Calculations in electrolysis — Faraday's laws 385
Michael Faraday 385
Faraday's first law of electrolysis 386
Faraday's second law of electrolysis 387
Applying Faraday's laws of electrolysis 387
Applications of electrolysis 389
Chapter review 391
Exam practice questions 395
Practical work 397
Appendix A — Volumetric techniques 421
Appendix B — Significant figures 423
Glossary 425
Answers 429
Index 449
Electrochemical series 454