English Is ... English for the Australian Curriculum Year 8 eBookPLUS (Online Purchase)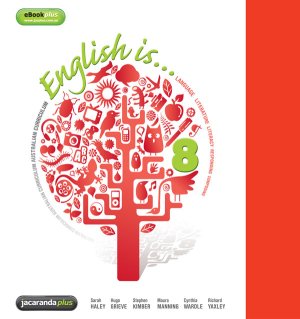 Title information

| | |
| --- | --- |
| Author/s | Haley |
| ISBN13 | 9781742467771 |
| Pub date | January 2013 |
| Pages | 0 |
| RRP | $69.95 |
Add to cart

The English is… series uses a creative approach to learning to inspire students to embrace the English language in all its variations and develop key skills in reading, understanding and creating. It includes structured inquiry into the big ideas or concepts that support English, underpinned by the skills needed for literate citizenship.

KEY FEATURES

• an entertaining, new Australian video series, written by Robert Greenberg (Round the Twist) and produced specifically to teach students the big ideas of the Australian Curriculum: English
• 'You be the writer' interactivities that provide students with hands-on opportunities to explore the craft of writing
• links to selected quests in Knowledge Quest online games
• editable worksheets for every unit and weblinks to relevant English content online
• rubrics for all assessment tasks.
English is ... English for the Australian Curriculum Year 8 eBookPLUS is a digital-only version of the textbook and a complementary set of targeted digital resources. These flexible and engaging ICT activities are available online at the JacarandaPLUS website (http://www.jacplus.com.au/).  


> eBookPLUS resources include:
• Access from any digital device PC/MAC/iPad/Android Tablet.
• Worksheets - Word documents designed for easy customisation and editing.
• Interactivities and games to reinforce and enhance student learning.
• eLessons - engaging video clips and supporting material.
• Weblinks to relevant support material on the internet.
• ProjectsPLUS - unique ICT-based projects that provide opportunities for students to demonstrate creativity, thinking skills and teamwork.
About eBookPLUS ix
How to use this book x
Acknowledgements xii
UNIT 1 Language Evolution 1
How and why does language evolve? 1
What do we mean when we say that language evolves? 3
Tuning in 3
1.1 Reading language from another era 4
How do I observe language change? 4
Wordsmith . . . Adjectives and adverbs 9
1.2 Technology and language change 11
How has technology influenced language? 11
Wordsmith . . . Writing an explanatory paragraph using analogies 15
1.3 The influence of other languages on English 16
How have other languages influenced English in the past? 16
Wordsmith . . . Subjective and objective writing 22
How does popular culture introduce foreign words? 24
Compose and create 28
UNIT 2 Me, Myself and I 31
How does language influence a person's identity? 31
What do we mean by 'language influencing identity'? 33
Getting started 33
2.1 Names, labels and identity 34
How do names affect our view of people and characters? 34
Wordsmith . . . Using nouns 38
How are characters in ction named and introduced? 39
2.2 The teenage community 44
How does language influence teenage identities? 44
Wordsmith . . . Audience and purpose 49
2.3 Spoken language in fiction and non-fiction 51
How does lost or hidden language affect identity? 51
Wordsmith . . . Setting out dialogue in ction 56
Compose and create 58
UNIT 3 Constructing Effective texts 61
How does a writer construct effective texts for a variety of audiences and purposes? 61
What is a text? 63
Tuning in 63
3.1 Constructing imaginative texts 64
How do imaginative texts entertain their readers? 64
Wordsmith . . . How writers use sentence structure and punctuation to help pace the reader 72
Imaginative texts with a more serious purpose 74
3.2 Constructing informative texts 78
How do informative texts inform their readers? 78
Other informative texts — news reports 81
Wordsmith . . . Using nominalisations 85
3.3 Experimenting with text structures and features 87
How can the same subject matter be used to create different text types? 87
Wordsmith . . . Separating fact and opinion in expressing a viewpoint 93
Compose and create 94
UNIT 4 Crafting Character 97
How do writers make their characters come to life? 97
What do we mean by 'crafting character'? 99
Tuning in 99
4.1 Characters and self-discovery 100
How do characters help us to understand ourselves? 100
Wordsmith . . . Writing dialogue to reveal character 106
4.2 Characters and their worlds 108
How do characters help us understand the world of the text? 108
Wordsmith . . . Sentence structure and imagery 114
4.3 Characters and social commentary 116
How do writers craft characters to explore our culture, history and values? 116
Wordsmith . . . Linking characters to values using analogies and ethical dilemmas 124
Compose and create 126
UNIT 5 Hearts and minds 129
How does the spoken word persuade? 129
Did you use rhetoric today? 131
Tuning in 131
5.1 Rhetoric in action 132
What is rhetoric and how can we recognise it? 132
Rhetoric in media texts — advertisements 134
Wordsmith . . . Using connotations to create rhetoric 137
Rhetoric in a feature article 138
5.2 Writing rhetoric 141
How do we use rhetoric when we write to in�� uence others? 141
Repetition 141
Repetition in speeches 143
Playing with hyperbole 144
Using metaphors and similes 145
Extending a metaphor 146
Figurative language in speeches 147
Wordsmith . . . Working with irony 150
5.3 Persuasive speaking techniques 151
How can we speak to influence others? 151
What makes a great speech? 154
How have great writers such as Shakespeare used rhetoric? 157
Wordsmith . . . Clauses 159
Compose and create 160
UNIT 6 Picture this 163
Why do visual texts have meaning? 163
What's in a picture? 165
Tuning in 165
6.1 The idea of representation 166
What does an image mean? 168
Do the meanings of images change over time? 168
Cultural perspectives 168
Changing stereotypes 169
Old-fashioned heroes 170
The female hero 171
Wordsmith . . . Storyboarding 173
6.2 ideas expressed in images 174
Are there universal truths? 174
Anime and good versus evil 174
Fear of the unfamiliar 176
Heroes and villains 177
Wordsmith . . . Connotative language 178
6.3 Making meaning 179
How do images and words convey meaning? 179
Graphic novels and short stories 179
Words or images? 186
Wordsmith . . . Comparing and contrasting 188
Compose and create 190
UNIT 7 Seriously funny 193
How does humour entertain and persuade within its historical, social and cultural context? 193
The power of laughter 195
Tuning in 195
7.1 Humour entertains 196
How do humorous texts entertain? 196
Wordsmith . . . Using puns to create humour 199
Humorous media texts that entertain 201
7.2 Humour entertains and persuades 205
How do humorous texts persuade as well as entertain? 205
Wordsmith . . . Creating spoofs with names 208
Satire persuades 209
7.3 Humour in context 212
How is humour part of its social, cultural and historical context? 212
Wordsmith . . . Avoiding verbosity 217
Compose and create 218
Projects PLUS
Persuasively speaking 222
Creating character 224
Glossary 226
Subject index 229
Author/Title index 232
221
Persuasively speaking 222
Creating character 224
Glossary 226
Subject index 229
Author/Title index 232