New Concepts in Commerce 3E Student Workbook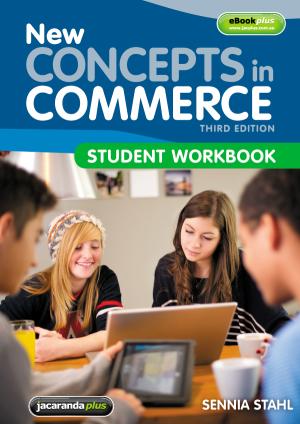 Title information

| | |
| --- | --- |
| Author/s | Stahl |
| ISBN13 | 9781118401026 |
| Pub date | November 2012 |
| Pages | 88 |
| RRP | $34.95 |
Add to cart
New Concepts in Commerce, Student Workbook, 3rd Edition is a student-centred resource designed to be used as a companion to the student textbook New Concepts in Commerce Third Edition. The workbook is available in a choice of two convenient formats — print and digital.

Features

• An expanded range of worksheets reviews, consolidates and extends the textbook
• Coverage of the four core syllabus topics of Consumer Choice, Personal Finance, Law and Society, and Employment Issues.
• Worksheets focus on the literacy, practical, thinking and study skills needed for success in Commerce.
• The workbook can be used variously for classwork, homework or revision.
• The workbook is hole-punched for easy storage, and perforated for removal and
• submission for marking.

Also available in a digital version:

New Concepts in Commerce Third Edition eWorkbook
• Worksheets are provided in Word and PDF formats.
• Students can print out and complete PDFs or complete in Word and submit electronically.

Whether in print or digital format, this student workbook helps make the study of Commerce an interesting and enriching experience as students learn life skills for now and the future.


Click here to view a New Concepts in Commerce Third Edition Value Pack.

A note to students iv
Chapter 1. Consumer choice
Worksheet 1.1 Start up! 1
Worksheet 1.2 Teenage spending habits 3
Worksheet 1.3 Using spider maps 5
Worksheet 1.4 Shop to a budget 7
Worksheet 1.5 Product website search 8
Worksheet 1.6 Supermarket shopping — the hidden persuaders 10
Worksheet 1.7 The art of persuasion 12
Worksheet 1.8 The unfinished script 13
Worksheet 1.9 Give me credit! 14
Worksheet 1.10 SWOT analysis 16
Worksheet 1.11 Wrap up! 18
Chapter 2. Personal finance
Worksheet 2.1 Start up! 21
Worksheet 2.2 Occupations and income 23
Worksheet 2.3 Excuse me, I'd like to apply for a credit card 25
Worksheet 2.4 Making a budget 27
Worksheet 2.5 Visual learning 28
Worksheet 2.6 Financial scavenger hunt 31
Worksheet 2.7 Generation Y and the Six Thinking Hats 32
Worksheet 2.8 Reading a stock market report 35
Worksheet 2.9 Ups and downs 37
Worksheet 2.10 Going guarantor 38
Worksheet 2.11 Wrap up! 39
Chapter 3. Law and society
Worksheet 3.1 Start up! 43
Worksheet 3.2 Join the police force 45
Worksheet 3.3 Caught and court 46
Worksheet 3.4 Think–Pair–Share on child crime 47
Worksheet 3.5 Who's who in court — criminal court 49
Worksheet 3.6 Five Ws (and one H) 51
Worksheet 3.7 Lawbreakers 53
Worksheet 3.8 Analysing graphs and statistics on crimes 55
Worksheet 3.9 Lawyer chat 57
Worksheet 3.10 Legal crossword 58
Worksheet 3.11 Wrap up! 59
Chapter 4. Employment issues
Worksheet 4.1 Start up! 63
Worksheet 4.2 Jobs for all 65
Worksheet 4.3 Work patterns 67
Worksheet 4.4 Acronyms 69
Worksheet 4.5 Reliability of statistical data 71
Worksheet 4.6 An unhealthy working environment 73
Worksheet 4.7 The eight-hour day 75
Worksheet 4.8 'The labourer is worthy of his hire' 77
Worksheet 4.9 The language of work 79
Worksheet 4.10 Wrap up! 81