New Concepts in Commerce 3E eBookPLUS (Online Purchase)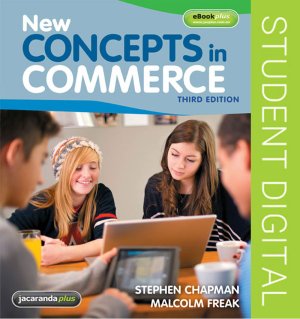 Title information

| | |
| --- | --- |
| Author/s | Chapman |
| ISBN13 | 9781118401002 |
| Pub date | December 2012 |
| Pages | 0 |
| RRP | $50.95 |
Add to cart
A new edition of Jacaranda New Concepts in Commerce 4e learnON is coming in 2018. Bringing the world of commerce alive with updated content and case studies to engage every student while ensuring teachers can teach their way. Now available on learnON, Jacaranda's immersive digital learning platform. You will be able to purchase this title later this year, to learn more about the series visit the Jacaranda NSW Ac Commerce page.


New Concepts in Commerce, 3rd Edition eBookPLUS (Online Purchase) follows highly successful earlier editions in addressing Commerce teachers' needs. It provides engaging, up-to-date and detailed content suitable for a range of student abilities. The fully revised third edition covers the four core and eleven option topics from the Years 7 to 10 Commerce syllabus in New South Wales.

New Concepts in Commerce 3E eBookPLUS is an electronic version of the textbook and a complementary set of targeted digital resources. These flexible and engaging ICT activities are available online at the JacarandaPLUS website (www.jacplus.com.au).


> eBookPLUS resources include:
• Access from any digital device PC/MAC/iPad/Android Tablet.
• Worksheets - Word documents designed for easy customisation and editing.
• Interactivities and games to reinforce and enhance student learning.
• eLessons - engaging video clips and supporting material.
• Weblinks to relevant support material on the internet.
• ProjectsPLUS - unique ICT-based projects that provide opportunities for students to demonstrate creativity, thinking skills and teamwork.
• eBookPLUS resources are cost effective, ranging in price from $25.95 - $53.95 depending on your subject area.
| | |
| --- | --- |
| Chapter 1 | Consumer choice |
| Chapter 2 | Personal finance |
| Chapter 3 | Law and society |
| Chapter 4 | Employment issues |
| Chapter 5 | Investing |
| Chapter 6 | Promoting and selling |
| Chapter 7 | E-commerce |
| Chapter 8 | Global links |
| Chapter 9 | Towards independence |
| Chapter 10 | Political involvement |
| Chapter 11 | Travel |
| Chapter 12 | The law in action |
| Chapter 13 | Our economy |
| Chapter 14 | Community participation |
| Chapter 15 | Running a small business |