Science Quest 7 for the Australian Curriculum 2E eBookPLUS (Online Purchase)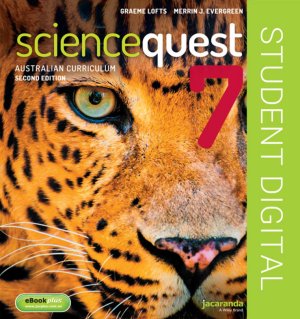 Title information

| | |
| --- | --- |
| Author/s | Lofts |
| ISBN13 | 9780730315896 |
| Pub date | December 2014 |
| Pages | 0 |
| RRP | $45.95 |
Add to cart
Jacaranda will be publishing a 3rd edition of Jacaranda Science Quest 7 for the Australian Curriculum in 2017 for use in 2018. The updated title will be available as print or a new eBook powered by learnON, the immersive digital learning platform. Please visit the Jacaranda Australian Curriculum Science page for more information.

Science Quest 7 For The Australian Curriculum 2E eBookPLUS (Online Purchase)

A pronounced improvement on the already highly regarded Science Quest Australian Curriculum series, our latest resources for Australian Curriculum Science have been updated based on in-depth research and feedback from practising teachers.
KEY FEATURES

• Improvememts made throughout the series based on in-depth research and feedback from practising teachers of Science in Victoria.
• Latest scientific updates in all topics including communication, biology and space.
• New eLessons and interactivities including video clips from the popular series 'The story of Science' featuring Michael Mosley.
• Individual pathways indicated for every set of activities.
Science Quest 7 for Australian Curriculum 2E eBookPLUS is a digital-only version of the textbook that provides access to all course content. It also includes a wealth of multimedia resources accessed through our JacarandaPLUS website (http://www.jacplus.com.au/).




> eBookPLUS resources include:
• Access from any digital device PC/MAC/iPad/Android Tablet.
• Worksheets - Word documents designed for easy customisation and editing.
• Interactivities and games to reinforce and enhance student learning.
• eLessons - engaging video clips and supporting material.
• Weblinks to relevant support material on the internet.
• ProjectsPLUS - unique ICT-based projects that provide opportunities for students to demonstrate creativity, thinking skills and teamwork.
• eBookPLUS resources are cost effective, ranging in price from $25.95 - $53.95 depending on your subject area.
 1. Science is...
 2. Learning keys
 3. Biological classification
 4. Ecosystems: interactions and relationships
 5. Separating mixtures
 6. Earth, moon and sun
 7. Renewable and
 non-renewable resources
 8. Forces in action
 9. A world of machines
 Acknowledgements