Active Outcomes 1 2E eGuidePLUS (Online Purchase)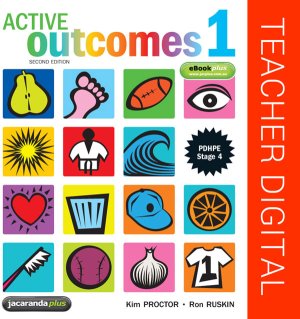 Title information

| | |
| --- | --- |
| Author/s | Ruskin |
| ISBN13 | 9781742462059 |
| Pub date | November 2010 |
| Pages | 0 |
| RRP | $117.95 |
Add to cart
Active Outcomes 1 2E eGuidePLUS (Online Purchase)
for teachers contains a HTML and PDF version of the entire student text as well as a complimentary set of targeted electronic resources including:
• Assessment tasks and answers for each strand
• Suggested answers to selected questions in the text
• Additional worksheets
These flexible and engaging ICT activities are available online at the JacarandaPLUS website (
www.jacplus.com.au
).
What is onlinepurchase?
Onlinepurchase
is a Jacaranda digital only product.
Following payment you will receive a registration code via email.
Go to
www.jacplus.com.au
to register your code and access your digital resource.
STRAND 1: SELF AND RELATIONSHIPS
Chapter 1: My sense of self
Chapter 2: Growing up - the challenges ahead
Chapter 3: Developing positive relationships

STRAND 2: MOVEMENT SKILLS AND PERFORMANCE
Chapter 4: Moving with skill
Chapter 5: Movement composition

STRAND 3: INDIVIDUAL AND COMMUNITY HEALTH
Chapter 6: A healthy lifestyle
Chapter 7: Adolescence can be a risky business
Chapter 8: Health information - who can help me?

STRAND 4: LIFELONG PHYSICAL ACTIVITY
Chapter 9: A Balancing Act!
Chapter 10: Fit for life