Active Outcomes 1 2E Pdhpe Stage 4 & eBookPLUS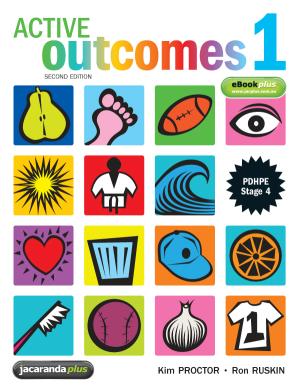 Title information

| | |
| --- | --- |
| Author/s | Ruskin |
| ISBN13 | 9781742462011 |
| Pub date | September 2010 |
| Pages | 312 |
| RRP | $84.95 |
Add to cart
A new edition of
Jacaranda Active Outcomes 1 3e NSW Ac PDHPE Stage 4 Print + learnON
is coming in 2018. The series guides teachers through the curriculum change with a rich bank of additional support material including detailed Syllabus and teacher notes and learning programs. Content and activities are browkn down into key concepts making it accessible for students of all levels. You will be able to purchase this title later this year, to learn mmore about the series visit the
Jacaranda NSW 7-10 PDHPE page
.
Active Outcomes 1 PDHPE Stage 4, Second Edition
provides an innovative way of structuring learning by solving
key challenges
: How can students of all abilities become engaged in their learning and motivated about becoming healthy and active? How can current, real-world PDHPE examples be brought into the classroom?
KEY FEATURES
• Complete coverage of the
PDHPE syllabus
, broken down into
key concept
units that are presented as highly digestible, lesson-based sections
• An
Engage pane
l at the start of each section that features weblinks, interactivities, worksheets or questions to promote discussion and engagement
• An
activity-focused section
for each lesson to ensure there is 'learning from doing'
•
Check & challenge questions
for each section, and a summary and review questions at the end of every chapter
Active Outcomes 1, Second Edition eBookPLUS is a digital-only version of the textbook and a complementary set of targeted digital resources. These flexible and engaging ICT activities are available online at the JacarandaPLUS website (www.jacplus.com.au).

The eBookPLUS includes:
• ProjectsPLUS - unique ICT-based projects that use an innovative research management system featuring media, templates and video introductions
• Video eLessons to bring PDHPE activities to life
• Interactivities to enhance each student's understanding through hands-on experience
• Online worksheets designed in Microsoft Word for easy customisation and editing
• Weblinks to online resources




About the authors.
Foreword.
About eBookPLUS.
Acknowledgements.
STRAND 1: SELF AND RELATIONSHIPS.
Chapter 1: My sense of self.
Chapter 2: Growing up - the challenges ahead.
Chapter 3: Developing positive relationships.

STRAND 2: MOVEMENT SKILL AND PERFORMANCE.
Chapter 4: Moving with skill.
Chapter 5: Movement composition.
.
STRAND 3: INDIVIDUAL AND COMMUNITY HEALTH.
Chapter 6: A healthy lifestyle.
Chapter 7: Adolescence can be a risky business.
Chapter 8: Health information - who can help me?

STRAND 4: LIFELONG PHYSICAL ACTIVITY.
Chapter 9: A Balancing Act!
Chapter 10: Fit for life.
Glossary.
Index.