Active Outcomes 2 2E Pdhpe Stage 5 eBookPLUS (Online Purchase)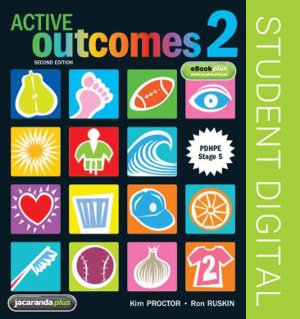 Title information

| | |
| --- | --- |
| Author/s | Ruskin |
| ISBN13 | 9781742462080 |
| Pub date | October 2010 |
| Pages | 0 |
| RRP | $54.95 |
Add to cart
Active Outcomes 2 2E PDHPE Stage 5 eBookPLUS (Online Purchase)
is provided FREE with the textbook, but is also available for purchase separately. eBookPLUS is an electronic version of the textbook and a complementary set of targeted digital resources. These flexible and engaging ICT activities are available online at the JacarandaPLUS website (
www.jacplus.com.au
).
The eBookPLUS includes:
• ProjectsPLUS - unique ICT-based projects that use an innovative research management system featuring media, templates and video introductions
• Video eLessons to bring PDHPE activities to life
• Interactivities to enhance each student's understanding through hands-on experience
• Online worksheets designed in Microsoft Word for easy customisation and editing
• Weblinks to online resources
What is onlinepurchase?
Onlinepurchase
is a Jacaranda digital only product.
Following payment you will receive a registration code via email.
Go to
www.jacplus.com.au
to register your code and access your digital resource.
Click to view Active Outcomes 2, Second Edition Textbook & eBookPLUS.
STRAND 1: SELF AND RELATIONSHIPS.
Chapter 1: Supporting myself and others.
Chapter 2: Responding to life's challenges.
Chapter 3: Creating respectful relationships.

STRAND 2: MOVEMENT SKILLS AND PERFORMANCE.
Chapter 4: Skills for thrills.
Chapter 5: On with the show

STRAND 3: INDIVIDUAL AND COMMUNITY HEALTH.
Chapter 6: Health issues for young people.
Chapter 7: Promoting health and keeping safe.
Chapter 8: Seeking advice and help for health concerns.

STRAND 4: LIFELONG PHYSICAL ACTIVITY.
Chapter 9: Active now and forever.
Chapter 10: Taking charge.