Business Studies in Action HSC Course 5E eGuidePLUS (Online Purchase)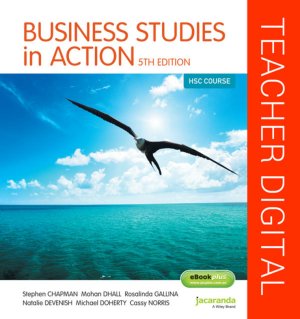 Title information

| | |
| --- | --- |
| Author/s | Chapman |
| ISBN13 | 9780730309017 |
| Pub date | November 2014 |
| Pages | 0 |
| RRP | $114.95 |
Add to cart
A new edition of Jacaranda Business Studies in Action HSC Course 6e eGuidePLUS is coming in 2018. The trusted market leader now updated with new content and case studies to engage students of all abilities and help them achieve exam success. Business Studies in Action is the most current text in the market. You will be able to purchase this title later this year, to learn more about the series visit the Jacaranda NSW Stage 6 Business Studies page.


Business Studies in Action HSC Course 5E eGuidePLUS (Online Purchase) provides online teacher support through instant access to student and teacher texts. It also includes a complementary set of targeted digital resources with answers to all questions in the text, to make teacher planning and preparation easier. These flexible and engaging ICT activities are available to you online at the JacarandaPLUS website (http://www.jacplus.com.au/).


> eGuidePLUS resources include:

• The entire textbook in electronic format, accessible from any digital device: PC/MAC/iPad/Android Tablet.
• Skillsheets, Worksheets and chapter tests designed for easy customisation and editing.
• Interactive activities and a wealth of ICT resources.
• Electronic tutorials for key worked examples.
• Fully worked solutions to the exam practice sections.
• A work program.
TOPIC 1 OPERATIONS
1.  Role of operations management
2.  Influences on operations management
3.  Operations processes
4.  Operations strategies 
Wotifcase study                                                                                                
TOPIC 2 MARKETING
1.  Role of marketing
2.  Influences on marketing
3.  Marketing process
4.  Marketing strategies 
Wotifcase study                                                                                                                        
TOPIC 3 FINANCE
1.  Role of financial management
2.  Influences on financial management
3.  Processes of financial management
4.  Financial management strategies
     Wotifcase study                                                                              
TOPIC 4 HUMAN RESOURCES
1.  Role of human resource management
2.  Influences on human resource management
3.  Processes of human resource management
4.  Strategies in human resource management
5.  Effectiveness of human resource management 
     Wotifcase study