Business Studies in Action Preliminary Course 4E eBookPLUS (Online Purchase)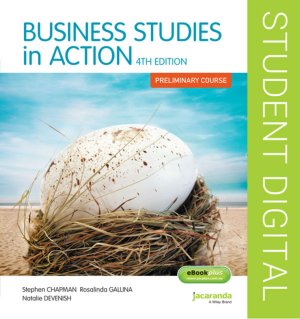 Title information

| | |
| --- | --- |
| Author/s | Chapman |
| ISBN13 | 9780730308980 |
| Pub date | November 2014 |
| Pages | 0 |
| RRP | $54.95 |
Add to cart
A new edition of Jacaranda Business Studies in Action Preliminary Course 5e eBookPLUS is coming in 2018. The trusted marked leader is now updated with new content and case studies to engage students of all abilities and help them achieve exam success. Business Studies in Action is the most current text in the market. You will be able to purchase this title later this year. To learn more about the series visit the Jacaranda NSW Stage 6 Business Studies page.



Business Studies in Action Preliminary Course 4E eBookPLUS (Online Purchase) engages students and enhances understanding of concepts.

KEY FEATURES

• Clear explanations of complex business concepts aided by graphic organisers.
• HSC 'key process verbs' are used consistently in graded question banks to prepare students for HSC study.
• Topical case studies reflect business in action in the real world.
• Rigorous adherence to the content of Business Studies Stage 6 syllabus.
• Greater emphasis on syllabus 'learn tos' as well as 'learn abouts' .
• Fully updated with new Snapshots, BizFacts and statistics.
• HSC 'key process verbs' are colour-coded and used in graded questions throughout the text.

Business Studies in Action Preliminary Course 4E eBookPLUS is a digital-only version of the textbook that provides access to all the course content. It also includes a wealth of multimedia resources accessed through our JacarandaPLUS website (http://www.jacplus.com.au/).


> eBookPLUS resources include:

• Access from any digital device: PC/MAC/iPad/Android Tablet.
• Worksheets - Word documents designed for easy customisation and editing.
• Interactivities and games to reinforce and enhance student learning.
• eLessons - engaging video clips and supporting material.
• Weblinks to relevant support material on the internet.
• ProjectsPLUS - unique ICT-based projects that provide opportunities for students to demonstrate creativity, thinking skills and teamwork.
TOPIC 1 THE NATURE OF BUSINESS
Chapter 1 – The role of business
Chapter 2 – Types of businesses
Chapter 3 – Influences in the business environment
Chapter 4 – Business growth and decline
TOPIC 2 Business Management
Chapter 5 – The nature of management
Chapter 6 – Achieving business goals
Chapter 7 – Management approaches
Chapter 8 – Management process
Chapter 9 – Management and change
TOPIC 3 Business Planning
Chapter 10 – Small to medium enterprises (SMEs)
Chapter 11 – Influences in establishing a small to medium enterprise
Chapter 12 – The business planning process
Chapter 13 – Critical issues in business success and failure