Chemistry 1 VCE Units 1 and 2 & eBookPLUS + StudyOn VCE Chemistry Units 1 and 2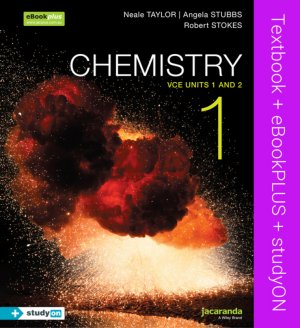 Title information

| | |
| --- | --- |
| Author/s | Taylor |
| ISBN13 | 9780730321415 |
| Pub date | October 2015 |
| Pages | 424 |
| RRP | $94.95 |
Add to cart
Chemistry 1 VCE Units 1 and 2 with eBookPLUS and studyON VCE Chemistry Units 1 and 2 provides comprehensive coverage of the new VCE Study Design for 2016-2021. It includes Jacaranda's unique exam preparation tool, studyON, which has been fully integrated with the text to maximise every student's opportunity for exam success.

Features and benefits

• New HTML5 interactivities and videos are available. These are designed to engage, excite and enhance understanding by bringing difficult concepts to life.
• The theory is written by highly experienced and successful teachers with a proven and fundamental understanding of how students learn and succeed in exams.
• Sample problems throughout the chapter to improve student understanding by stepping through worked solutions.
• Revision questions throughout the chapter check and challenge students understanding.
• A wide range of graded end-of-chapter questions and chapter reviews.
• studyON VCE Chemistry 1 and 2 is fully integrated with the student text. studyON is Jacaranda's unique study, revision and exam preparation tool.

Students can rely on Jacaranda's dedicated customer service and support.

This resource is a hard-copy student text that includes the eBookPLUS and studyON VCE Chemistry Units 1 and 2.




studyON for Units 1 and 2 is a comprehensive study, revision and exam preparation tool that delivers proven learning outcomes.

Features and benefits

• Sit exams: VCAA exam-style questions along with marking guides. Students receive instant feedback and can track their results at a concept, topic or whole-course level.
• Concepts: Concept summary screens provide concise, in-depth explanations supported by relevant examples.
• Read more: Hyperlinks direct students to more information in the Jacaranda eBookPLUS.
How to use this book viii
About eBookPLUS and studyON x
Acknowledgements xi
UNIT 1 Area of study 1
Chapter 1 Atomic structure 2
Atoms 3 The structure of atoms 3
A matter of size 5
Responsible use of nanotechnology 9
Representing atoms 9
Isotopes 10
Exciting electrons 11
Bohr's energy levels 12
Electron configuration 13
Erwin Schrödinger — the quantum-mechanical model of an atom 15
Electron configuration 17
Chromium and copper — atypical electron configurations 19
Chapter review 21
Chapter 2 The periodic table 25
Classification of the elements 26
Dmitri Mendeleev 27
Organisation of the periodic table 28
Periods and groups in the periodic table 29
Electron configuration and blocks of elements in the periodic table 29
Metals and non-metals in the periodic table 32
Patterns in the periodic table 33
Periodic trends in atomic size 33
Periodic trends in ionisation energy 34
Periodic trends in electronegativity 35
Periodic trends in metallic characteristics 36
Periodic trends in oxidising and reducing strength 37
Chapter review 38
Chapter 3 Ionic bonding 42
Introducing chemical bonds 43
Electron configuration and stability 43
Types of chemical bond 44
From atoms to ions 44
Ionic bonding 47
Structure and properties of ionic substances 49
Ionic lattices 49
Connecting properties of ionic compounds to structure 51
Naming ionic compounds 52
Formulas of binary ionic compounds 53
Ions of variable charge 55
Polyatomic ions 56
Uses of ionic compounds 58
Why do athletes take sports drinks? 58
Hydrated ionic compounds 59
Growing ionic crystals 60
Chapter review 61
Chapter 4 Metallic bonding 65
Metals 66
Properties of metals 66
Structure of metals 66
Metallic properties and lattice structure 68
Alloys 69
Specific properties and uses of s-block metals 73
Specific properties and uses of p-block metals 74
Specific properties and uses of d-block elements 74
Other models that explain metallic properties 76
Modifying metals 77
Modifying a metal by work hardening 77
Modifying a metal using heat 77
Coating metals 78
Surface protection 78
Reactivity of metals 79
Reactivity of metals and the periodic table 80
Metallic nanomaterials 80
Connecting chemistry to society 82
Titanium bicycles — a material advantage? 82
Extraction of metals 83
Extraction of iron 83
Impacts of iron production on society, the economy and the environment 84
Chapter review 86
Chapter 5 Quantifying chemistry 91
Measuring atoms 92
Measuring masses of atoms 92
Relative atomic mass 93
Counting atoms 94
The mole concept 94
Molar mass (M) 95
Compounds and molar mass 95
Changing moles to numbers of particles 96
Changing mass to moles and moles to mass 98
Percentage composition 100
Calculating percentage composition of hydrated compounds 101
Empirical formulas 102
Molecular formulas 104
Chapter review 106
Area of study 2
Chapter 6 Covalent bonding 110
Introducing covalent bonds 111
Covalent molecular substances 111
A theory for the structure of covalent molecular substances 111
The molecule 111
What is covalent bonding? 112
Electron dot diagrams 113
Electron dot diagrams for atoms 113
Electron dot diagrams for molecular elements 115
Electron dot diagrams for molecular compounds 116
Molecular models 117
Predicting molecular shape 118
Naming covalent compounds 120
Molecular elements 120
Molecular compounds 120
Electronegativity 121
Non-polar and polar covalent bonds 122
Non-polar and polar molecules 123
Intermolecular attractions 124
Dispersion forces 125
Dipole–dipole interactions 126
Hydrogen bonding 126
Effects of hydrogen bonding on the properties of water 127
Properties of molecular substances in relation to structure 128
Chapter review 130
Chapter 7 Networks and nanomaterials 135
Carbon 136
Same but different 136
Covalent network lattices 136
Covalent layer lattices 138
Fullerenes 139
Comparing structures 141
Bonding and modelling 141
Bonding 141
Lattice structures 142
Identifying the bonding in different substances 143
Properties 143
Composition 144
Chapter review 146
Chapter 8 Organic chemistry 152
Organic chemistry 153
What are organic compounds? 153
Hydrocarbons 154
Properties of hydrocarbons 154
Reactions of alkanes 156
Structural isomers 156
The alkenes 157
Reactions 157
The alkynes 158
Reactions 158
Cyclic hydrocarbons 158
Naming organic substances 159
Rules for naming hydrocarbons 160
Condensed formulas 162
Functional groups 162
Alcohols 162
Carboxylic acids 163
Where do hydrocarbons come from? 166
Petroleum 166
Refining crude oil 166
Cracking 168
Chapter review 170
Chapter 9 Polymers 175
Polymers 176
The first polymers 176
What is a polymer? 177
Thermoplastic and thermosetting polymers 177
Polymer manufacture 177
Addition polymerisation 178
Changing the properties of linear polymers 179
Extent of branching 180
Arrangement of side branches in linear polymers 181
Degree of crystallinity 182
Length of polymer chains 182
Addition of plasticisers 182
Additives 183
Commonly used polymers 183
Addition polymers 183
Rubber 183
Polymer selection 185
Advantages and disadvantages of using polymers 185
Recycling 186
Chapter review 190
Area of study 3
Chapter 10 Investigating and reporting 194
Research investigations 195
Planning 195
Presentation of findings 196
Practical investigations 196
Procedure 197
Writing your report 197
General safety rules 198
Risk assessments 198
Working with figures 199
Scientific notation 199
Significant figures 200
How do we count significant figures? 201
Significant figures and calculations 201
Errors and uncertainties 202
Effective study techniques to improve your results 203
The exam 204
Using reading time effectively 204
Getting the best results in writing time 204
Calculations 204
UNIT 2 Area of study 1
Chapter 11 Connecting chemical reactions and equations 206
Chemical changes 207
Chemical equations 207
Balancing chemical equations 209
Rules for balancing equations 210
Types of chemical reaction 211
Precipitation reactions 211
Acid–base and neutralisation reactions 213
Combustion reactions 214
Chemical reactions — by patterns 215
Chapter review 216
Chapter 12 Properties of water 219
Water — the life force 220
The physical properties of water 220
Latent heat 220
Specific heat capacity 222
Density 222
Electrical conductivity 224
Hydrogen bonding and the properties of water 224
Effects of hydrogen bonding on the properties of water 225
Water as a solvent 226
Solubility 226
Solubility of gases in water 227
Using water as a solvent 228
Mixing solutions 228
Precipitation reactions 229
Rules for solubility 230
Ionic equations 231
Writing ionic equations for precipitation reactions 231
Chapter review 233
Chapter 13 Reactions in water 237
Two new groups of reactions 238
Introducing acids and bases 238
Safety with acids and bases 238
The properties of acids 239
Reactions of acids 239
The properties of bases 240
The Brønsted–Lowry theory of acids and bases 241
Ionisation and the production of the hydronium ion 242
Hydrolysis 242
Dissociation of bases 242
Neutralisation 243
Acid–base terms 244
Conjugate acid–base pairs 244
Polyprotic acids 244
Amphiprotic substances and ampholytes 244
Strengths of acids and bases 246
Strength versus concentration 248
The pH scale 248
Definition of pH 250
pH values of strong acids and bases 250
Dilution and pH 251
Relative strengths of acids and bases and pH 252
Measuring pH 253
Indicators 253
The pH meter 254
When acids cause trouble 255
Acid rain 255
Ocean acidification 256
Introducing redox reactions 256
What is oxidation–reduction? 257
Oxidants and reductants 258
An electron transfer view 258
Half-equations 260
Writing balanced half-equations for ions in aqueous solution 261
Summary of steps for balancing half-equations 263
The reactivity of metals 264
Corrosion 266
The wet corrosion of iron — an electrochemical process 266
Adverse effects of corrosion 268
Corrosion protection 268
Chapter review 271
Area of study 2
Chapter 14 Measuring solubility and concentration 280
Using water 281
Solubility of solids in water 282
Solubility curves 283
Crystallisation 284
Solubility of liquids and gases 286
The concentration of substances 286
Ways of expressing concentration 287
A special unit of concentration 292
The concentration of water 293
Calculating the concentration of ions in solution 293
Environmental issues 295
Micro-organisms 296
Eutrophication 296
Heavy metals 297
Water for drinking 297
Methods of desalination 298
Chapter review 301
Chapter 15 Analysing water for salts 305
What is chemical analysis? 306
Qualitative analysis 306
Quantitative analysis 306
Methods of chemical analysis 307
Deciding on an analytical method 307
Analysing water 308
Sources of salts in water 308
Sources of contaminants in water 310
Water sampling protocols 312
A closer look at analytical methods 312
Electrical conductivity 313
Colorimetry 313
UV–visible spectroscopy 315
Atomic absorption spectroscopy (AAS) 315
Gravimetric analysis 317
Stoichiometry—calculations using balanced equations 318
What a balanced chemical equation tells us 318
What a chemical equation does not tell us 319
Mass–mass stoichiometry 320
Mass–concentration stoichiometry 323
Gravimetric analysis 325
Analysing for water content 326
Extending the gravimetric method 326
Examining sources of error 329
Chapter review 330
Chapter 16 Analysing water for organic compounds 338
Organic compounds in the environment 339
Some organic chemistry revisited 339
Naming 339
Solubility in water 339
What are organic compounds used for? 340
Persistent organic pollutants 340
How do organic contaminants enter water? 342
Analysing for organic substances 343
Principles of chromatography 343
High-performance liquid chromatography (HPLC) 344
Interpreting the results from HPLC 345
HPLC at work 347
Oil spills 349
Effects of a marine oil spill 350
How are oil spills treated? 351
Chapter review 352
Chapter 17 Analysing water for acids and bases 357
Isn't water neutral? 358
How is water made acidic? 358
How is water made basic? 358
Sources of acids and bases found in water 359
Reasons for analysing 360
Analysing for acids and bases 361
Solution stoichiometry 361
Dilution 362
Acid–base titrations 364
Standard solutions 367
Volumetric techniques 367
The pipette 367
The burette 368
Volumetric flasks 368
Indicators 369
Total alkalinity 370
Examining sources of error 371
Chapter review 372
Practical investigations ONLINE ONLY 376
Answers 377
Glossary 399
Index 404
Periodic table of the elements 410