Chemistry 2 VCE Units 3 and 4 eBookPLUS & Print + StudyOn VCE Chemistry Units 3 and 4 2E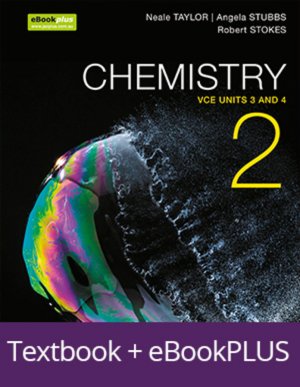 Title information

| | |
| --- | --- |
| Author/s | Taylor |
| ISBN13 | 9780730329107 |
| Pub date | October 2016 |
| Pages | 448 |
| RRP | $94.95 |
Add to cart
Chemistry 2 VCE Units 3 and 4 eBookPLUS & Print + studyON
provides comprehensive coverage of the new VCE Study Design for 2016–2021. It includes Jacaranda's unique exam preparation tool,
studyON
, which has been fully integrated with the text to maximise every student's opportunity for exam success.
Features and benefits
New HTML5 interactivities and videos are available. These are designed to engage, excite and enhance understanding by bringing difficult concepts to life.
The theory is written by highly experienced and successful teachers with a proven and fundamental understanding of how students learn and succeed in exams.
Sample problems throughout the chapter improve student understanding by stepping through worked solutions.
Revision questions throughout the chapter check and challenge students' understanding.
A wide range of graded end-of-chapter questions and chapter reviews.
studyON VCE Chemistry 3 and 4 is fully integrated with the student text. studyON is Jacaranda's unique study, revision and exam preparation tool.
Unit 3
Chapter 1: Choosing fuels
Chapter 2: Energy calculations
Chapter 3: Converting chemical energy to electrical energy
Chapter 4: Electrolysis
Chapter 5: Rates of reactions
Chapter 6: Equilibrium systems
Unit 4
Chapter 7: Key practical skills and communication
Chapter 8: Structures and nomenclature of organic compounds
Chapter 9: Properties and reactions of organic compounds
Chapter 10: Analysis of organic compounds
Chapter 11: Vitamins and proteins
Chapter 12: Food and energy