Civics & Citizenship Alive 7 Australian Curriculum Edition eBookPLUS (Online Purchase)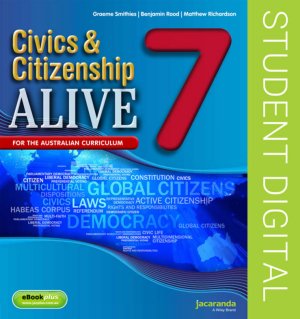 Title information

| | |
| --- | --- |
| Author/s | Smithies |
| ISBN13 | 9780730314189 |
| Pub date | October 2014 |
| Pages | 0 |
| RRP | $24.95 |
Add to cart
Civics and Citizenship Alive 7 Australian Curriculum Edition eBookPLUS (Online Purchase) is a comprehensive digital resource with completely new material created specifically for the Australian Curriculum.

KEY FEATURES
• Visual and engaging, packed with plenty of videos, photos and diagrams to explain concepts.
• Accessible for students of all abilities and appealing to visual learners.
• Digital resources include: video topic introductions, crosswords, multiple choice and true/false quizzes as well as eLessons and interactivities.
• Key words highlighted with drop-down glossary definitions.

Civics and Citizenship Alive 7 Australian Curriculum Edition eBookPLUS is available as a digital-only resource and provides access to all the course content. It also includes a wealth of multimedia resources accessed through our JacarandaPLUS website (http://www.jacplus.com.au/).




> eBookPLUS resources include:

• Access from any digital device: PC/MAC/iPad/Android Tablet.
• Worksheets - Word documents designed for easy customisation and editing.
• Interactivities and games to reinforce and enhance student learning.
• eLessons - engaging video clips and supporting material.
• Weblinks to relevant support material on the internet.

1. The Australian Constitution

2. Parliament and Government

3. The legal system and you

4. Australian diversity and identity