Civics & Citizenship Alive 7 Australian Curriculum Teacher Edition eGuidePLUS (Online Purchase)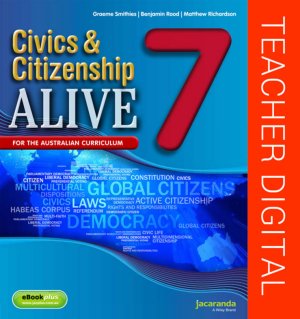 Title information

| | |
| --- | --- |
| Author/s | Jacaranda |
| ISBN13 | 9780730314202 |
| Pub date | January 2015 |
| Pages | 0 |
| RRP | $49.95 |
Add to cart
Civics and Citizenship Alive 7 Australian Curriculum Edition eGuidePLUS (Online Purchase) is a comprehensive digital resource with completely new material created specifically for the Australian Currriculum.




KEY FEATURES

• Visual and engaging, packed with plenty of videos, photos and diagrams to explain concepts.
• Accessible for students of all abilities and appealing to visual learners.
• Digital resources include: video topic introductions, crosswords, multiple choice and true/false quizzes as well as eLessons and interactivities.
• Key words highlighted with drop-down glossary definitions.
• Curriculum grids, which link the content of the ebookPLUS to the Australian Curriculum, to assist teachers with their planning.

1. The Australian Constitution
2. Parliament and Government
3. The legal system and you
4. Australian diversity and identity