English Is...english for the Australian Curriculum Year 10 Complete Offer Pocket (Textbook + Pocket Dict & Thesaurus + Knowledge Quest Game & W/B)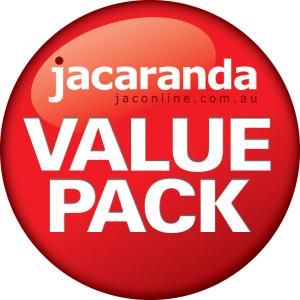 Title information

| | |
| --- | --- |
| Author/s | Gardiner |
| ISBN13 | 9781118424865 |
| Pub date | August 2013 |
| Pages | 0 |
| RRP | $57.95 |
Add to cart
Australian English education has never been so invigorating. A new curriculum encourages students to embrace the English language in all its variations and develop key skills in reading, understanding and creating.
 
Jacaranda's English resources offer a clear pathway through the Australian Curriculum: English, allowing students to communicate, collaborate and innovate in their quest to become life-long learners. 
Jacaranda has developed various packs to provide comprehensive coverage of the English Australian Curriculum.
Components of the Complete Offer Pack include:
• English is ... English for the Australian Curriculum Year 10 Textbook + eBookPLUS +
• Knowledge Quest: English 2 online game +
• Knowledge Quest: English 2 workbook +
• Macquarie Pocket Dictionary & Thesaurus 


View our Amazing English Offers brochure for more information


 Click here to view our range of English for the Australian Curriculum Value Packs
UNIT 1 English — Change and Continuity 1
How does the English language and its history reveal who we
are and what we value? 1
Tuning in 2
1.1 The history of English 3
What's so special about English? 3
Old English: The Seafarer 3
Old English: Beowulf 7
Beowulf on the big screen 10
Writing that packs a punch 11
French influences on English language 13
Middle English emerges 14
The Pardoner's Tale 14
Wordsmith . . . Greek and Latin roots 17
1.2 Technology and language change 19
How do new technologies alter language? 19
Weird words 20
Wordsmith . . . The future of the English language 23
1.3 Language and identity 24
How does our language express our sense of identity? 24
Talkin' Ostrayan 24
A distinctive Australian voice 24
English and Indigenous Australia 26
What's in a name? 28
Teen-speak 29
Really cool 31
Wordsmith . . . Denotation, connotation and euphemism 32
Compose and create 33
UNIT 2 Adaptations and transformations 35
How are valued texts adapted or transformed for new contexts? 35
Tuning in 36
2.1 Drawing on Shakespeare 37
Why are there so many adaptations of Shakespeare's plays? 37
Shakespeare goes intertextual 39
A poetic adaptation of Romeo and Juliet 42
Wordsmith . . . Counting the beat 44
2.2 Creating a classic 'brand' 46
What gives classic texts their enduring value? 46
The original book 46
Pride, prejudice and popcorn 51
Wordsmith . . . Active and passive voice 53
2.3 Creating alternative meanings 54
How can texts be altered to re ect new values and beliefs? 54
Classic picture books 57
Turning to the big screen 59
Wordsmith . . . Americanising English 61
Compose and create 62
UNIT 3 Text in Context 63
Why is context central to the production and reception of a text? 63
Tuning in 64
3.1 What is context? 65
How does context influence both the creator of the text and
the audience? 65
Positioning 66
Cultural context: time/era 68
Context of situation: theme in a novel 68
Avatar — theme in a film 73
Wordsmith . . . The skill of debating 74
3.2 The context of place 76
How is context conveyed through setting? 76
Of Mice and Men 76
Avatar — setting in a film 80
Wordsmith . . . Impressionistic description 82
3.3 The context of social circumstances 83
How do a society's prevailing beliefs and values relate to context? 83
Social circumstances 83
The person telling the story 83
Creating the context for a great story 89
Wordsmith . . . Writing an analytical response 94
Compose and create 96
UNIT 4 Artistry 97
How do writers capture powerful moments that move us? 97
Tuning in 98
4.1 Creating a narrative persona 99
How do writers craft a persona and voice to engage their audience? 99
Wordsmith . . . Establishing a persona 104
4.2 Structure: orientation, conflict and climax 107
How do great writers experiment with structure? 107
Orientation 107
Conflict 109
Climax 112
Wordsmith . . . The narrative arc 115
4.3 Developing style 118
How does a writer create a distinctive style? 118
Style in a prose novel 118
Style in a verse novel 121
Wordsmith . . . Imagery, symbols and motifs 124
Compose and create 126
UNIT 5 Manipulation 127
How do writers and composers manipulate us through texts? 127
Tuning in 128
5.1 The fiction writer as manipulator 129
How do fiction writers influence our responses to their narrative? 129
Manipulating through dialogue 133
Wordsmith . . . Using dialogue to maintain reader interest 139
5.2 The non-fiction writer as manipulator 141
How do non-fiction writers influence our perceptions? 141
Similar views; different tones 144
Wordsmith . . . Perfecting the witty one-liner 147
5.3 The visual artist as manipulator 148
How can visual images and plays upon words manipulate us? 148
Wordsmith . . . How punctuation makes meaning 152
Compose and create 153
UNIT 6 Curtain up! 155
How do performers interpret, craft and engage? 155
Tuning in 156
6.1 Understanding performance 157
How do characters create performance? 157
Mapping a character 157
Objectives in action 158
How do performers reveal their characters? 160
What can words tell us? 163
A new character 164
Wordsmith . . . Understanding conflict 165
6.2 Analysing performance 167
How can we analyse a specific play? 167
The tragedy of Macbeth 167
Tragedy in text 168
The structure of tragedy 170
Characters in Macbeth 172
Character in focus: Lady Macbeth 173
Three witches 175
Wordsmith . . . Textual interventions 177
6.3 Creating performance 179
How can we use text to create performance? 179
Act III, Scene ii 180
Guilty or not? Creating a new text for performance 182
Law and order 184
Wordsmith . . . Blocking and emotional interpretation 186
Compose and create 189
UNIT 7 People and Places 191
How are people and places represented through language
and images? 191
Tuning in 192
7.1 Representing places 193
How are representations constructed? 193
Travel tales online 196
Feature articles on travel 198
Wordsmith . . . Choosing language to craft the imagery of place 201
7.2 Representing ethics 203
How do representations shape reader responses to ethical issues? 203
Representing the ethics of voluntourism 206
Wordsmith . . . Citing the work of others in your writing 210
7.3 Representing people 212
How do documentary film-makers represent people? 212
Constructing an image 217
Constructing representations through dialogue 219
Wordsmith . . . Analysing representations in documentary 222
Compose and create 223
Projects Plus 225
Literary appreciation 226
Wish you were here 228