English Is ... English for the Australian Curriculum Year 7 eGuidePLUS (Online Purchase)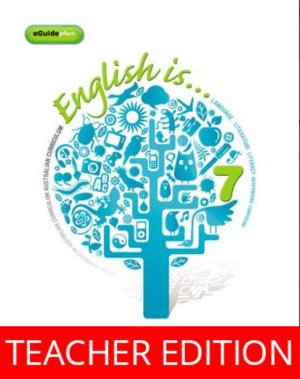 Title information

| | |
| --- | --- |
| Author/s | Moult |
| ISBN13 | 9781742467740 |
| Pub date | December 2012 |
| Pages | 0 |
| RRP | $117.95 |
Add to cart
English is ... English for the Australian Curriculum Year 7
eGuidePLUS (Online Purchase)
is an electronic version of the student textbook plus a complementary set of targeted digital resources which make teacher planning and preparation easier. These flexible and engaging ICT activities are available online at the JacarandaPLUS website (
www.jacplus.com.au
).
Your eGuidePLUS resources include:
• full version of the student eBookPLUS
• answer versions of worksheets
• teachers' notes on operating a differentiated classroom
• notes on assessment tasks
• Australian Curriculum: English coverage grids.


What is onlinepurchase?
onlinepurchase is a Jacaranda digital only product.
Following payment you will receive a registration code via email.
Go to www.jacplus.com.au to register your code and access your digital resource.
UNIT 1 My world, your world 1
How does literature help us to understand about culture?
Literature and culture 3
Tuning in 3
1.1 Stories from other places, other cultures 4
What can stories of people's lives tell us about the culture and customs
of other countries? 4
Wordsmith . . . Evaluative language 10
1.2 Poetry and culture 12
How can poetry help us to understand a country's traditionalculture? 12
Haiku 12
A traditional Australian bush poem 14
Wordsmith . . . Critical analysis of a poem 17
1.3 Other times and culture 18
What can stories based on historical events tell us about life
in other times? 18
Wordsmith . . . What is an idiom? 23
Compose and create 24
UNIT 2 Culture remix 27
How does today's culture draw on stories from other times and places?
What is popular culture? 29
Tuning in 29
2.1 Stories and culture 30
How does manga tell stories? 30
Wordsmith . . . Steps in creating Manga or a comic book 37
2.2 Popular culture retells our past 39
What is the significance of stories from the past? 39
A Holocaust story 39
Inside Hana's Suitcase — an interactive web story 42
Wordsmith . . . Understanding concrete and abstract nouns 45
2.3 Popular culture retells our present 46
How can a story from China be transformed from one form
to another? 46
The novel form 46
The picture book form 48
The film form 50
Wordsmith . . . The grammar of visual texts 53
Compose and create 56
UNIT 3 The writer's craft 59
What is a writer's 'craft'?
What does it mean to 'craft'? 61
Tuning in 61
3.1 Crafting language in imaginative texts 62
How do writers appeal to a reader's senses in poetry? 62
Haiku: short but full of sensation 62
Mood poetry 65
Wordsmith . . . Creating mood with your senses 66
3.2 Crafting language in prose fiction 68
How do prose writers evoke a response from a reader? 68
Wordsmith . . . Writing to craft mood 71
3.3 Crafting multimodal texts 78
How do web designers craft web pages? 78
Wordsmith . . . Crafting texts using verbs 82
Compose and create 84
UNIT 4 Narrative worlds 87
How do narratives capture an imagined world?
Understanding the what and how of storytelling 89
Tuning in 89
4.1 Setting creates narrative worlds 90
How do writers create vivid and engaging settings? 90
Creating settings in visual narratives 93
Wordsmith . . . Choose language to create impact 99
4.2 Characters create narrative worlds 100
How do characters bring a story to life? 100
Characters of myth and fairytale 100
Action and reaction in characters 104
Wordsmith . . . Writing effective dialogue 108
4.3 Narrative viewpoint 110
How do writers use 'point of view' to position the reader? 110
Point of view in multimodal texts 114
Wordsmith . . . From third person to first person 118
Compose and create 120
UNIT 5 The play's the thing 123
How does drama tell stories?
How is drama part of our lives? 125
Tuning in 125
5.1 Understanding plays as texts 126
What are the key features of a play? 126
The playscript 126
How are plays structures? 130
Wordsmith . . . What is subtext? 136
5.2 Understanding characters in plays 137
How do plays make us engage with their characters? 137
Desire and obstacle 137
Monologues 139
Wordsmith . . . Distinguishing fact from opinion 142
5.3 Performing plays 143
How can we create a dramatic performance? 143
Becoming the character 143
Who, where, what, if 143
Knowing characters 143
Discovering the character 145
Understanding back-story 146
Blocking, rehearsing and performing 147
Working with tone 150
Wordsmith . . . Writing your own scene 152
Compose and create 154
UNIT 6 Persuasion: the gentle art 157
How does persuasion make us say 'Yes'?
Are you a persuader? 159
Tuning in 159
6.1 Persuasion is personal 160
How do you persuade others of your wishes or opinions? 160
Writing to persuade 162
Wordsmith . . . Using modal language to persuade 166
6.2 Persuasion uses a range of techniques 168
What are the devices used by those whose purpose is to persuade? 168
Persuasive devices in everyday spoken texts 168
Persuasive devices in visual texts — photographs 170
Persuasive devices in multimodal texts: print and advertisements 172
Wordsmith . . . Using statistics to persuade 174
6.3 Persuasive literary texts 176
Can imaginative texts also persuade? 176
Persuasion in a short story 178
How can I create an effective persuasive text in writing? 181
Planning 183
Drafting your work 183
Reviewing and revising your work 183
Wordsmith . . . Using connectives 184
Compose and create 186
UNIT 7 The edge of imagination 189
How do imaginative texts entertain their readers?
What is a narrative genre? 191
Tuning in 191
7.1 Fantasy — a narrative genre 192
How do fantasy writers construct their narrative? 192
Narrative plot 197
Plot in a fantasy narrative 197
Wordsmith . . . Using rhyme and rhythm 200
7.2 Science fiction, mystery and horror genres 201
How do science fiction, mystery and horror writers construct
their narratives? 201
Science fiction 201
Mystery genre 204
Setting and atmosphere in mystery narratives 204
Horror genre 206
Horror films 207
Wordsmith . . . Show, don't tell 211
7.3 Reviewing narrative genres 212
How do we evaluate narrative texts? 212
Book reviews 213
Wordsmith . . . Discussing narrative genres 217
Compose and create 218