Geoactive 1 3E eGuidePLUS (Online Purchase)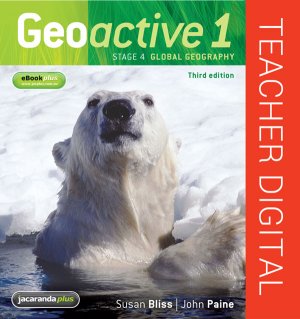 Title information

| | |
| --- | --- |
| Author/s | Chaffer |
| ISBN13 | 9781742164236 |
| Pub date | March 2010 |
| Pages | 0 |
| RRP | $139.95 |
Add to cart
Geoactive 1 Stage 4 Global Geography, 3E eGuidePLUS
is provided FREE with the Teacher Guide, but is also available for purchase separately. eGuidePLUS for teachers contains a HTML and PDF version of the entire student text as well as a complimentary set of targeted electronic resources. These flexible and engaging resources are available online at the JacarandaPLUS website (
www.jacplus.com.au
)
Your eGuidePLUS resources include:
access to the complete student eBookPLUS
answers to all the activities in the student text
answers to worksheets in eBookPLUS and the Teacher Guide
teacher access portal for ProjectsPLUS
What is onlinepurchase?
Onlinepurchase is a Jacaranda digital only product.
Following payment you will receive a registration code via email.
Go to www.jacplus.com.au to register your code and access your digital resource.
Click to view Geoactive 1 3E Teacher Guide & eGuidePLUS.
1.   The nature of Geography
2.   Our world, our heritage
3.   Geographical research
4.   Global Environments
5.   Mountain lands
6.   Deserts
7.   Rainforests
8.   Polar Lands
9.   The changing nature of the world
10. An unequal world
11. Global resource use
12. Global geographical issues and citizenship
13. Climate change
14. Threatened habitats
15. Tourism: a geographical issue
16. Access to fresh water