Geoactive 2 3E Stage 5 Australian Geography eBookPLUS (Online Purchase)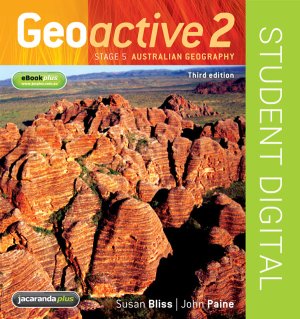 Title information

| | |
| --- | --- |
| Author/s | Bliss |
| ISBN13 | 9781742163208 |
| Pub date | January 2010 |
| Pages | 0 |
| RRP | $54.95 |
Add to cart
Geoactive 2 Stage 5 Australian Geography, 3E eBookPLUS
is provided FREE with the textbook, but is also available for purchase separately. eBookPLUS for students is an electronic version of the textbook and a complementary set of targeted digital resources. These flexible and engaging ICT activities are available online at the JacarandaPLUS website (
www.jacplus.com.au
).   
The eBookPLUS includes:
• ProjectsPLUS, an exciting new research management system featuring media, templates, and video introductions to a unique ICT project for each chapter; specifically designed to inspire and engage students while providing quality assessment support for teachers
• Student worksheets designed in Word for easy customisation and editing
• Weblinks to useful support material on the internet  
What is onlinepurchase?
Onlinepurchase
is a Jacaranda digital only product.
Following payment you will receive a registration code via email.
Go to
www.jacplus.com.au
to register your code and access your digital resource.
Click here to view Geoactive 2 Stage 5 Australian Geography, 3rd Edition Textbook and eBookPLUS.
1.   The Australian continent
2.   Physical characteristics that make Australia unique
3.   Natural hazards in Australia
4.   Australia's population
5.   Australian communities
6.   Changing Australian communities
7.   Geographical issues
8.   Land and water management
9.   Coastal management
10. Australia's regional and global contexts
11. Australia's regional and global links
12. Future challenges: Population
13. Future challenges: Human rights and reconciliation