Geoactive 2 3E Stage 5 Australian Geography & eBookPLUS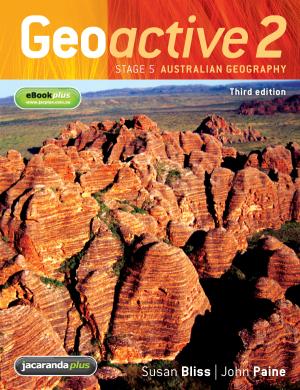 Title information

| | |
| --- | --- |
| Author/s | Bliss |
| ISBN13 | 9781742160085 |
| Pub date | December 2009 |
| Pages | 360 |
| RRP | $84.95 |
Add to cart
The
Geoactive
series continues to set the standard as a complete resource package for the Geography Years 7-10 Syllabus in New South Wales. The third edition of the series takes a fresh approach to course requirements with engaging new content, appealing formats and exciting digital resources in the new eBookPLUS. Full-colour Teacher Guides and eGuides supplement the student books.
In this new edition of Geoactive 2, new case studies and an increased focus on skills mean students and teachers can be assured of a comprehensive and authoritative coverage of the most popular Stage 5 Australian Geography topics. Features of Geoactive 2 student book include:
  • In-depth coverage of syllabus outcomes
  • Integrated geography tools and skills, including a Geoskillbuilder feature within chapters to provide step by step skill development
  • Strong emphasis on geographical issues
  • Clear text with a strong literacy focus
  • Key geography terms defined on the page at point of use
  • Clearly labelled colour diagrams and artwork
  • Carefully- graded and categorised activities with scaffolded parts
  • Working geographically end of chapter sections aid preparation for School Certificate
  • Content in manageable 'chunks' using a double-page for chapter sub-topics
  • Detailed artwork to bring geographical processes to life
  • Focus on sample studies to present Australian examples
  • Geofacts with high-interest facts
  • Graded and stimulating activities using text, maps, diagrams and illustrations


Geoactive 2 3E features eBookPLUS which is provided FREE with the textbook, but is also available for purchase separately. eBookPLUS is an electronic version of the textbook and a complementary set of targeted digital resources. These flexible and engaging ICT activities are available online at the JacarandaPLUS website (www.jacplus.com.au).
  
Your eBookPLUS resources include:
  • ProjectsPLUS, an exciting new research management system featuring media, templates, and video introductions to a unique ICT project for each chapter; specifically designed to inspire and engage students while providing quality assessment support for teachers
  • Student worksheets designed in Word for easy customisation and editing
  • Weblinks to useful support material on the internet
Click here to view Geoactive 2 Stage 5 Australian Geography, 3rd Edition eBookPLUS.
Preface.
About eBookPLUS.
How to use this book.
Coverage of syllabus.
Acknowledgements.
Chapter 1.  The Australian continent.
Chapter 2.  Physical characteristics that make Australia unique.
Chapter 3.  Natural hazards in Australia.
Chapter 4.  Australia's population.
Chapter 5.  Australian communities.
Chapter 6   Factors causing change in Australian communities.
Chapter 7.  Geographical issues.
Chapter 8.  Land and water management.
Chapter 9.  Coastal management.
Chapter 10. Australia's regional and global contexts.
Chapter 11. Trade, aid, defence: global regional links.
Chapter 12. Future challenges: Population.
Chapter 13. Challenges: Human rights and reconciliation.
Glossary.
Index.