Geography Alive 8 for the Australian Curriculum eGuidePLUS (Online Purchase)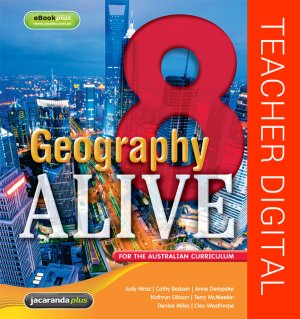 Title information

| | |
| --- | --- |
| Author/s | Mraz |
| ISBN13 | 9781118489130 |
| Pub date | December 2013 |
| Pages | 0 |
| RRP | $114.95 |
Add to cart
Jacaranda will be publishing a 2nd edition of Jacaranda Geography Alive 8 for the Australian Curriculum in 2017 for use in 2018. The updated title will be available as print or a new eBook powered by learnON, the immersive digital learning platform. Please visit the Jacaranda Australian Curriculum Geography page for more information.

Geography Alive 8 for the Australian Curriculum eGuidePLUS (Online Purchase) for teachers provides an electronic version of the student textbook, as well as a complementary set of targeted digital resources. These flexible and engaging resources are available to you online at the jacarandaPLUS website (www.jacplus.com.au).
Your eGuidePLUS resources include:
• Comprehensive teaching and assessment advice
• Answers to activities
• Australian Curriculum grids for each chapter.
What is onlinepurchase?
onlinepurchase is a Jacaranda digital only product.
Following payment you will receive a registration code via email.
Go to www.jacplus.com.au to register your code and access your digital resource
GEOGRAPHY ALIVE 8 CONTENTS*
UNIT ONE: LANDFORMS AND LANDSCAPES
CHAPTER 1 Introducing landforms and landscapes
CHAPTER 2 Landscapes formed by water
CHAPTER 3 Desert landscapes
CHAPTER 4 Mountain landscapes
CHAPTER 5 Rainforest landscapes
UNIT TWO: RESHAPING THE NATION
CHAPTER 6 Large countries and urbanisation
CHAPTER 7 The rise and rise of urban settlements
*Contents may vary slightly from the finalised textbook