History Alive 10 for the Australian Curriculum eBookPLUS (Online Purchase)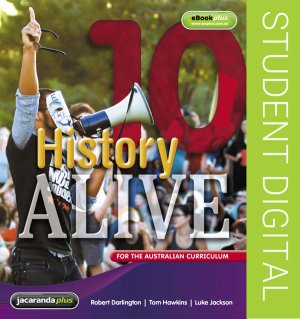 Title information

| | |
| --- | --- |
| Author/s | Darlington |
| ISBN13 | 9780730337713 |
| Pub date | July 2012 |
| Pages | 0 |
| RRP | $35.95 |
Add to cart
Jacaranda will be publishing a 2nd edition of Jacaranda History Alive 10 for the Australian Curriculum in 2017 for use in 2018. The updated title will be available as print or a new eBook powered by learnON, the immersive digital learning platform. Please visit the Jacaranda Australian Curriculum History page for more information.

Based on the highly successful Humanities Alive series, History Alive 10 for the Australian Curriculum eBookPLUS (Online Purchase) provides the most engaging and fascinating coverage of the new Australian Curriculum for History for year 10 students across Australia.

KEY FEATURES

• Visually appealing double-page spreads
• A wealth of source material
• High-impact photos and artwork
• A clear inquiry-based approach
• Lively and complete coverage of the essential content
• A dedicated ICT activities spread for each chapter which highlights all the ICT resources in eBookPLUS

History Alive 10 for the Australian Curriculum eBookPLUS is an electronic version of the textbook and a complementary set of targeted digital resources. These flexible and engaging ICT activities are available online at the JacarandaPLUS website (www.jacplus.com.au).




>eBookPLUS resources include:
• Access from any digital device PC/MAC/iPad/Android Tablet.
• Worksheets - Word documents designed for easy customisation and editing.
• Interactivities and games to reinforce and enhance student learning.
• eLessons - engaging video clips and supporting material.
• Weblinks to relevant support material on the internet.
• ProjectsPLUS - unique ICT-based projects that provide opportunities for students to demonstrate creativity, thinking skills and teamwork.
Overview 1: The Modern World and Australia
CHAPTER 1 - The Modern World and Australia (1918 - 1939)
Depth Study 1: World War II
CHAPTER 2 - World War II (1939 - 1945)
Overview 2: The modern World and Australia
CHAPTER 3 - The Modern World and Australia (since 1945)
Depth Study 2: Rights and Freedoms
CHAPTER 4 - Rights and Freedoms (1945 - present)
Depth Study 3: The Globalising World
CHAPTER 5 - Popular Culture (1954 - present)
CHAPTER 6 - The environmental movement (1960s - present)
CHAPTER 7 - Migration experiences (1945 - present)