History Alive 7 for the Australian Curriculum eGuidePLUS (Online Purchase)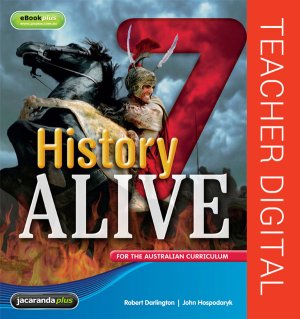 Title information

| | |
| --- | --- |
| Author/s | Andrews |
| ISBN13 | 9780730337553 |
| Pub date | June 2012 |
| Pages | 0 |
| RRP | $117.95 |
Add to cart
History Alive 7 for the Australian Curriculum eGuidePLUS (Online Purchase)
for teachers contains a HTML and PDF version of the entire student text as well as a complimentary set of targeted electronic resources. These flexible and engaging ICT activities are available online at the JacarandaPLUS website (
www.jacplus.com.au
).
The eGuidePLUS includes:
• comprehensive teaching and assessment notes
• answers to all activities in the student text and workbook
• Australian Curriculum grids for each chapter
• Weblinks to useful support material on the internet
• access to the student eBookPLUS

What is onlinepurchase?
onlinepurchase is a Jacaranda digital only product.
Following payment you will receive a registration code via email.
Go to www.jacplus.com.au to register your code and access your digital resource.
Depth Study 1: Investigating the Ancient Past
CHAPTER 1 - Historians, archaeologists and the ancient past
CHAPTER 2 - Investigating a society of the ancient past: the Olmec
Overview 1: The Ancient World
CHAPTER 3 - The ancient past before farming
Overview 2 - The Ancient World
CHAPTER 4 - The Ancient World The ancient past since farming
Depth Study 2: The Mediterranean World
CHAPTER 5 - Ancient Egypt
CHAPTER 6 - Ancient Greece
CHAPTER 7 - Ancient Rome
Depth Study 3: The Asian World
CHAPTER 8 - The Asian World Ancient China
CHAPTER 9 - Ancient India