History Alive 9 for the Australian Curriculum Student Eworkbook (Online Purchase)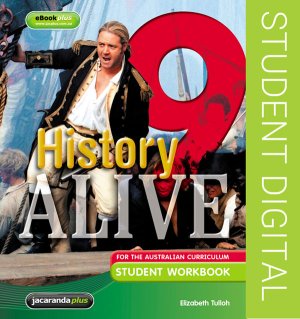 Title information

| | |
| --- | --- |
| Author/s | Tulloh |
| ISBN13 | 9781118324721 |
| Pub date | May 2012 |
| Pages | 0 |
| RRP | $14.95 |
Add to cart
History Alive 9 for the Australian Curriculum Student eWorkbook
is designed to deepen and enhance student learning, with additional classroom or homework activities for each chapter.
KEY FEATURES:


•
Thinking tools
worksheets
explore a range of helpful thinking tools
•
Vocabulary worksheets
to help students reinforce their understanding of key terms and concepts
•
Legacy worksheets
to review the legacy of the period under study
•
Visual learning worksheets
help to foster visual literacy
•
Summing up worksheets
allow students to check their understanding of key content and concepts
•
Reflection worksheets
provide a structured way for students to reflect on the progress of their learning.
History Alive 9 for the Australian Curriculum Student eWorkbook
is a digital-only product. Worksheet answers and editable Word versions of the worksheets and other resources can be accessed online by teachers through the
History Alive 9 for the Australian Curriculum eGuidePLUS
available online at the JacarandaPLUS website (
http://www.jacplus.com.au/
).
For more information on the products in the History Alive for the Australian Curriculum series, click here 
Overview 1: The Making of the Modern World
CHAPTER 1 - The Modern World and Australia (c. 1750 - 1918)
Depth Study 1: Making a Better World?
CHAPTER 2 - Technology and Progress - The Industrial Revolution (1750 - 1914)
CHAPTER 3 - People and the Industrial Revolution (1750 - 1914)
CHAPTER 4 - Movement of People (1750 - 1901)
Depth Study 2: Australia and Asia
CHAPTER 5 - Making a nation: colonisation and conflict in Australia
CHAPTER 6 - Making a nation: Australia - from colonies to nationhood
CHAPTER 7 - Asia and the world: China
Depth Study 3: World War 1
CHAPTER 8 - The Great War (1914-1918)