Jacaranda Geoactive 1 NSW Australian Curriculum Edition Stage 4 eBookPLUS (Online Purchase)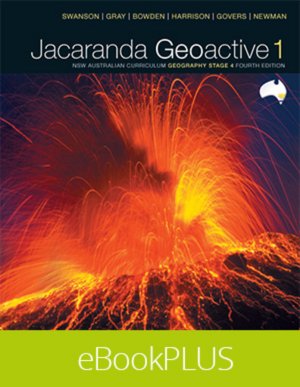 Title information

| | |
| --- | --- |
| Author/s | Swanson |
| ISBN13 | 9780730330356 |
| Pub date | January 2017 |
| Pages | 0 |
| RRP | $54.95 |
Add to cart
Jacaranda will be publishing new digital editions of Jacaranda Geoactive 1 Stage 4 for the NSW Australian curriculum in 2017 for use in 2018. The title will be available as print (published in 2016) or a new eBook powered by learnON, the immersive digital learning platform that replaces eBookPLUS in 2018. Please visit the Jacaranda NSW Australian curriculum Geography page for more information.

Geoactive 1 NSW Australian curriculum Edition Stage 4 eBookPLUS (Online Purchase) provides comprehensive coverage of the new NSW Geography K-10 Syllabus.

Jacaranda's unique, comprehensive reference resource SkillBuilder is fully integrated with the text, progressing student learning through a Tell me, Show me, Let me do it sequence.

Geoactive 1 is the first title in its series. To view the rest of the titles in this series, click here
Topic 1: The world of Geography
Topic 2: The diversity and formation of landscapes and landforms
Topic 3: Valuing, managing and protecting landscapes and landforms
Topic 4: Desert landscapes
Topic 5: Mountain landscapes
Topic 6: Rainforest landscapes
Topic 7 Fieldwork inquiry: How does a waterway change from source to sea?
Topic 8: Where do Australians live?
Topic 9: People and places
Topic 10: Liveable places
Topic 11: Geographical inquiry: What is my place like?
Topic 12: Water in the world
Topic 13: Water resources and the water cycle
Topic 14: Water scarcity and management
Topic 15: Too much wind, too much water
Topic 16 Fieldwork inquiry: What is the water quality of my local catchment?
Topic 17: Personal connections
Topic 18: Technology connecting people
Topic 19: Buy, swap, sell and give
Topic 20: For better or worse?
Topic 21: Fieldwork inquiry: What are the effects of travel in the local community?