Jacaranda Geoactive 1 Stage 4 NSW Australian Curriculum LearnON (Online Purchase)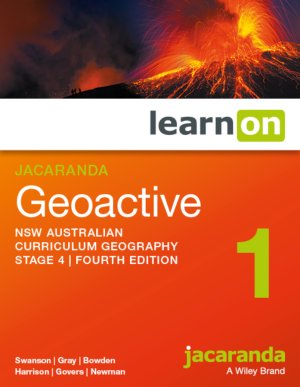 Title information

| | |
| --- | --- |
| Author/s | Swanson |
| ISBN13 | 9780730361350 |
| Pub date | November 2018 |
| Pages | 0 |
| RRP | $59.95 |
Add to cart
Jacaranda Geoactive 1 Stage 4 NSW Ac 4e learnON
This digital title provides 100% coverage of the NSW Australian curriculum for Geography. The latest edition is delivered on learnON, Jacaranda's powerful and immersive digital learning platform. With learnON, students enjoy:
media, such as videos and interactivities, directly embedded within the reading content (no more opening in a separate browser tab!)
the ability to personalise their digital title through notes, highlighting and favourites
interactive questions for every topic, with feedback for every question
a dashboard showing individual progress and results
For teachers, learnON includes additional teacher resources such as quarantined questions and answers, curriculum grids and work programs—no separate eGuide purchase is required.

To complement the Geoactive series, Jacaranda Atlas 9e and Jacaranda myWorld Atlas (digital) is available for Years 7-10.
Topic 1. The world of Geography
Topic 2. The diversity and formation of landscapes and landforms
Topic 3. Valuing, managing and protecting landscapes and landforms
Topic 4. Desert landscapes
Topic 5. Mountain landscapes
Topic 6. Rainforest landscapes
Topic 7. Fieldwork Inquiry: How does a waterway change from source to sea?
Topic 8. Where do Australians live?
Topic 9. People and places
Topic 10. Liveable places
Topic 11. Geographical Inquiry: What is my place like?
Topic 12. Water in the world
Topic 13. Water resources and the water cycle
Topic 14. Water scarcity and mangement
Topic 15. Too much wind, too much water
Topic 16. Fieldwork Inquiry: What is the water quality of my local catchment?
Topic 17. Personal connections
Topic 18. Technology connecting people
Topic 19. Buy, swap, sell and give
Topic 20. For better or worse?
Topic 21. Fieldwork Inquiry: What are the effects of travel in the local community?