Jacaranda Geoactive 2 NSW Australian Curriculum Edition Stage 5 eBookPLUS (Online Purchase)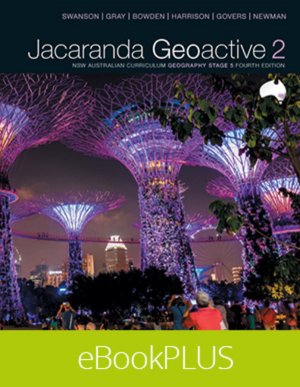 Title information

| | |
| --- | --- |
| Author/s | Swanson |
| ISBN13 | 9780730330301 |
| Pub date | January 2017 |
| Pages | 0 |
| RRP | $49.95 |
Add to cart
Jacaranda will be publishing new digital editions of Jacaranda Geoactive 2 Stage 5 for the NSW Australian curriculum in 2017 for use in 2018. The title will be available as print (published in 2016) or a new eBook powered by learnON, the immersive digital learning platform that replaces eBookPLUS in 2018. Please visit the Jacaranda NSW Australian curriculum Geography page for more information.

Jacaranda Geoactive 2 NSW Australian curriculum Edition Stage 5 eBookPLUS (Online Purchase) provides comprehensive coverage of the new NSW Geography K-10 Syllabus.
Jacaranda's unique, comprehensive reference resource SkillBuilder is fully integrated with the text, progressing student learning through a Tell me, Show me, Let me do it sequence.
Geoactive 2 is the second title in its series. To view the rest of the titles in this series, click here.
Topic 1: The world of Geography
Topic 2: Biomes
Topic 3: Biomes produce food
Topic 4: How are biomes changing?
Topic 5: Challenges to food production
Topic 6: 2050- Food shortage or surplus?
Topic 7: Fieldwork inquiry: What are the effects of travel in the local community?
Topic 8: Urbanisation
Topic 9: The rise and rise of urban settlements
Topic 10: Planning Australia's urban future
Topic 11: Geographical inquiry: Investigating an Asian megacity
Topic 12: Introducing environmental change and management
Topic 13: Land environments under threat
Topic 14: Inland Water
Topic 15: Managing Change in Coastal Environments
Topic 16: Marine environments – Are we trashing our oceans?
Topic 17: Sustaining Urban Environments
Topic 18: Geographical inquiry: Developing an environmental management plan
Topic 19: Human Wellbeing and development
Topic 20: Spatial variations in human wellbeing
Topic 21: Human Wellbeing in Australia
Topic 22: Improving Human Wellbeing
Topic 23 Fieldwork inquiry: Comparing wellbeing in the local area