Jacaranda Geography Alive 10 Australian Curriculum 2E LearnON & Print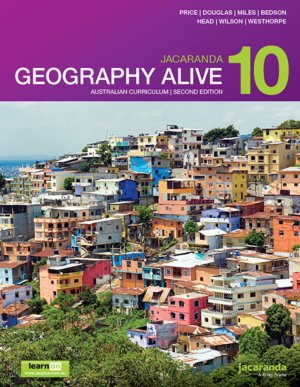 Title information

| | |
| --- | --- |
| Author/s | Price |
| ISBN13 | 9780730347859 |
| Pub date | October 2017 |
| Pages | 288 |
| RRP | $69.95 |
Add to cart
Jacaranda Geography Alive 10 AC 2e learnON & Print
This combined print and digital title provides 100% coverage of the Australian Curriculum for Geography.

The textbook comes with a complimentary activation code for learnON, the immersive digital learning platform that replaces eBookPLUS in 2018. With learnON, students enjoy:
media, such as videos and interactivities, directly embedded within the reading content (no more opening in a separate browser tab!)
the ability to personalise their digital title through notes, highlighting and favourites
interactive questions for every topic, with feedback for every question
a dashboard showing individual progress and results

For teachers, learnON includes additional teacher resources such as quarantined questions and answers, curriculum grids and work programs—no separate eGuide purchase is required.

To complement the Geography Alive series, Jacaranda Atlas 9e and MyWorld Atlas (digital) is available for Years 7-10.
Topic 1: The world of Geography
Topic 2: Introducing environmental change and management
Topic 3: Land environments under threat
Topic 4: Inland water — dammed, diverted and drained
Topic 5: Managing change in coastal environments
Topic 6: Marine environments — are we trashing our oceans?
Topic 7: Sustaining urban environments
Topic 8 Geographical Inquiry: Developing an environmental management plan
Topic 9: What makes a good life?
Topic 10: Human wellbeing and change
Topic 11: Is life the same everywhere?
Topic 12: Trapped by conflict
Topic 13: Fieldwork Inquiry: Comparing wellbeing in the local area