Jacaranda Geography Alive 8 Australian Curriculum 2E LearnON & Print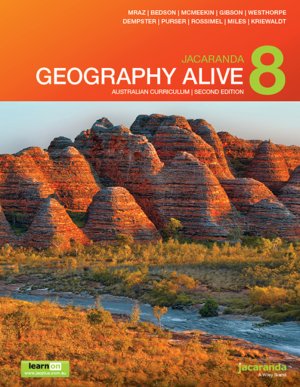 Title information

| | |
| --- | --- |
| Author/s | Mraz |
| ISBN13 | 9780730347903 |
| Pub date | October 2017 |
| Pages | 280 |
| RRP | $69.95 |
Add to cart
Jacaranda Geography Alive 8 AC 2e learnON & Print
This combined print and digital title provides 100% coverage of the Australian Curriculum for Geography.

The textbook comes with a complimentary activation code for learnON, the immersive digital learning platform that replaces eBookPLUS in 2018. With learnON, students enjoy:
media, such as videos and interactivities, directly embedded within the reading content (no more opening in a separate browser tab!)
the ability to personalise their digital title through notes, highlighting and favourites
interactive questions for every topic, with feedback for every question
a dashboard showing individual progress and results

For teachers, learnON includes additional teacher resources such as quarantined questions and answers, curriculum grids and work programs—no separate eGuide purchase is required.

To complement the Geography Alive series, Jacaranda Atlas 9e and MyWorld Atlas (digital) is available for Years 7-10.
How to use the Jacaranda Geography Alive resource suite ix
Acknowledgements xiii
1 The world of Geography 1
1.1 Overview 1
1.2 Geographical concepts 3
1.3 Review 13
Unit 1 Landforms and Landscapes 15
2 Introducing landforms and landscapes 17
2.1 Overview 17
2.2 How are landscapes different? 18
2.3 What landforms make up Australia? 20
2.4 SkillBuilder: Recognising land features 29
2.5 What landforms are found in the Pacific? 29
2.6 What processes shape landscapes? 27
2.7 What is hidden underground? 30
2.8 What's beneath our feet? 33
2.9 SkillBuilder: Using positional language
2.10 How do different cultures view landscapes? 36
2.11 How are landscapes preserved and managed? 39
2.12 Review 44
3 Landscapes formed by water 43
3.1 Overview 43
3.2 Which landscapes are formed by water? 44
3.3 What is coastal erosion? 47
3.4 Which coastal landforms are created by deposition? 49
3.5 How are coasts changed? 52
3.6 What differences exist in coastal landforms between places? 54
3.7 How are coasts managed? 56
3.8 How do I undertake coastal fieldwork? 58
3.9 SkillBuilder: Constructing a field sketch
3.10 What's in a rip? 62
3.11 How does water form river landscapes? 64
3.12 How are river landscapes managed? 69
3.13 Which landscapes are formed by ice?
3.14 Do all rivers flow to the sea? 71
3.15 SkillBuilder: Reading contour lines on a map
3.16 Review 77
4 Desert landscapes 76
4.1 Overview 76
4.2 What is a desert? 77
4.3 SkillBuilder: Using latitude and longitude 83
4.4 What type of climate forms deserts? 81
4.5 What are the processes that shape desert landforms? 86
4.6 What are the characteristics of Australia's deserts? 90
4.7 SkillBuilder: Calculating distance using scale 94
4.8 How did Lake Mungo become dry? 93
4.9 How do people use deserts? 98
4.10 Is Antarctica a desert? 96
4.11 How do people use Antarctica? 99
4.12 Review 104
5 Mountain landscapes 103 5.1 Overview 103
5.2 Where are the world's mountains? 104
5.3 How do people use mountains? 107
5.4 What are the forces that form mountains? 111
5.5 How do different types of mountains form? 113
5.6 How do earthquakes and tsunamis occur? 118
5.7 What are the impacts of earthquakes and tsunamis? 127
5.8 How are volcanic mountains formed? 125
5.9 How did Mount Taranaki form? 128
5.10 SkillBuilder: Drawing simple cross-sections 133
5.11 What is the anatomy of a volcano? 132
5.12 SkillBuilder: Interpreting an aerial photo 137
5.13 How do volcanic eruptions affect people? 138
5.14 Review 136
6 Rainforest landscapes 137
6.1 Overview 137
6.2 What are the characteristics of a rainforest? 138
6.3 What is a rainforest ecosystem like? 141
6.4 SkillBuilder: Creating and describing complex overlay maps 145
6.5 How have Australia's rainforests changed? 144
6.6 How is the Amazon rainforest changing? 146
6.7 SkillBuilder: Drawing a précis map 153
6.8 How do indigenous peoples use rainforests? 154
6.9 Why are rainforests disappearing? 152
6.10 How does deforestation affect the environment and people? 154
6.11 How can rainforests be conserved? 159
6.12 Review164
7 Fieldwork inquiry: How does a waterway change from source to sea? 162
7.1 Overview 162
7.2 Process 162
7.3 Review 164
Unit 2 Changing Nations 165
8 Urbanisation 167
8.1 Overview 167
8.2 Where do most Australians live? 168
8.3 Where have Australians lived in the past? 171
8.4 What is urbanisation? 174
8.5 Is Australia an urbanised country? 177
8.6 SkillBuilder: Understanding thematic maps 184
8.7 How urban are the United States and Australia? 180
8.8 SkillBuilder: Creating and reading pictographs 188
8.9 SkillBuilder: Comparing population profiles 189
8.10 How has international migration affected Australia? 185
8.11 Why are people on the move in Australia? 191
8.12 Why are people on the move in China? 193
8.13 Review 202
9 The rise and rise of urban settlements 198
9.1 Overview 198
9.2 Where are the world's cities? 199
9.3 SkillBuilder: Describing photographs 207
9.4 SkillBuilder: Creating and reading compound bar graphs 208
9.5 Why do people move to urban areas? 203
9.6 How do urban areas affect people's ways of life? 210
9.7 SkillBuilder: Constructing a basic sketch map 218
9.8 Where are the world's megacities located? 214
9.9 What are the causes and effects of Indonesia's urban explosion? 217
9.10 What are the characteristics of cities in South America? 227
9.11 What are the characteristics of cities in the United States? 222
9.12 What are the characteristics of cities in Europe? 230
9.13 How can cities become sustainable? 225
9.14 Are there sustainable cities in Australia? 228
9.15 Review 238
10 Planning Australia's urban future 234
10.1 Overview 234
10.2 What do sustainable cities look like? 235
10.3 Are growing urban communities sustainable? 237
10.4 SkillBuilder: Reading and describing basic choropleth maps
10.5 Should we manage our suburbs? 241
10.6 How can we manage traffic? 243
10.7 SkillBuilder: Drawing a line graph using Excel 251
10.8 Welcome to Sustainaville 245
10.9 Where are the world's sustainable cities? 254
10.10 Can we plan to 'live vertically'? 248
10.11 Is Auroville a sustainable community? 256
10.12 How do we plan for a liveable future? 250
10.13 Review 259
11 Geographical inquiry: Investigating an Asian megacity 254
11.1 Overview 254
11.2 Process 255
11.3 Review 256
Glossary 257
Index 261