Jacaranda Humanities and Social Sciences 9 for Western Australia LearnON & Print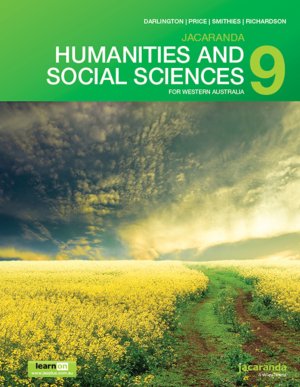 Title information

| | |
| --- | --- |
| Author/s | Jacaranda |
| ISBN13 | 9780730349303 |
| Pub date | November 2017 |
| Pages | 720 |
| RRP | $64.95 |
Add to cart
Jacaranda Humanities and Social Sciences 9 for WA learnON & Print
This combined print and digital title provides 100% coverage of the Western Australian curriculum for Humanities and Social Sciences.

The textbook comes with a complimentary activation code for learnON, the immersive digital learning platform that replaces eBookPLUS in 2018. With learnON, students enjoy:
media, such as videos and interactivities, directly embedded within the reading content (no more opening in a separate browser tab!)
the ability to personalise their digital title through notes, highlighting and favourites
interactive questions for every topic, with feedback for every question
a dashboard showing individual progress and results

For teachers, learnON includes additional teacher resources such as quarantined questions and answers, curriculum grids and work programs—no separate eGuide purchase is required.

To complement the Humanities and Social Science series for the Geography section Jacaranda Atlas 9e and MyWorld Atlas (digital), and for the History section Jacaranda World History Atlas and MyWorld History Atlas (digital) is available for Years 7-10.
Civics and Citizenship
Unit 1: Our democratic rights
Topic 1: Choosing a government
Topic 2: Australia's court system
Topic 3: Australia's justice system
Economics and Business
Unit 2: Australia and the global economy
Topic 4: The Australian economy
Topic 5: The global economy
Topic 6: Managing financial risk
Topic 7: Innovation and competition in the marketplace
Topic 8: Australia's changing work environment
Topic 9: How do we connect with places?
Topic 10: Tourists on the move
Topic 11: How can we feed the world?
Geography
Topic 12: The world of geography
Unit 3: Biomes and food security
Topic 13: All the world is a biome
Topic 14: How can we feed the world?
Topic 15: What are the impacts of feeding the world?
Topic 16: Are we devouring our future?
Topic 17: 2050 – Food shortage or surplus?
Geographical Inquiry: Biomes and food security
Topic 18: Buy, swap, sell and give
Geographical Inquiry: Biomes and food security
Unit 4: Geographies of interconnections
History
Unit 5: The making of the modern world
Depth study 1: Investigating the Industrial Revolution (1750–1914)
Topic 19: Technology and progress: Industrial revolution (1750 – 1914)
Topic 20: The impact of people: Industrial revolution (1750 – 1914)
Topic 21: Movement of peoples (1750 – 1914)
Unit 6 Depth study 2: Investigating World War I (1914–1918)
Topic 22: World War I