Jacaranda Myworld Atlas Teacher Edition (Online Purchase)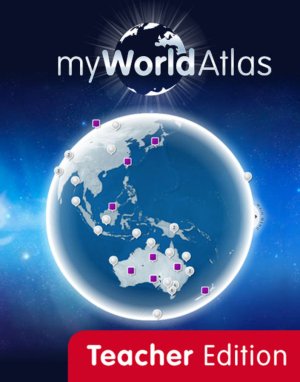 Title information

| | |
| --- | --- |
| Author/s | Jacaranda |
| ISBN13 | 9781742463223 |
| Pub date | February 2011 |
| Pages | 0 |
| RRP | $114.95 |
Add to cart
The
Jacaranda myWorld Atlas
instantly engages students and provides an online environment for students to explore, test their geographical skills, gain instant feedback, and create their own case studies. This
unique digital atlas
combines all the content of the iconic
Jacaranda Atlas Eighth Edition for the Australian Curriculum
with the latest online technology, including interactive maps, a statistical query tool and links to the three-dimensional Google Earth. Students will love working in their
Jacaranda myWorld Atlas
as they create their own personalised environment, add notes, videos and images to their interactive globe and publish their case studies on
http://www.myworldatlas.com.au
or popular social networking sites.
KEY FEATURES
• a dynamic, online three-dimensional world for students to explore interactive GIS-style maps for students to create their own maps
• each student's globe comes to life as they progress through key geographical skills and case studies of amazing places and important events around the world.
• stunning video footage from National Geographic and the ABC
• 32 new case studies, which address Australian Curriculum content descriptions
• an updated statistical tool for students to generate maps and graphs
• an interactive question bank to test knowledge and understanding
• instant feedback is provided and all questions link to a progress tracker that identifies the geographical skills in which a student is excelling and those that require further study

TEACHER EDITION

• provides teachers with online access to receive both individual student and aggregated class results from over 1000 questions
• covers 50 key geographical skills and 200 geographical studies of trends, events and places around the globe.

Jacaranda myWorld Atlas Teacher Edition is a digital-only resource and provides access to all the content. It includes a wealth of multimedia resources accessed through our JacarandaPLUs website (www.jacplus.com.au/).




Jacaranda myWorld Atlas has won and been nominated for several prestigious awards including:
2011 Australian Education Publishing Awards:
• Joint Overall Winner of the best educational resource
• Winner Secondary Best digital student learning resource
18th Annual Australian Interactive Media Industry and Association Awards
• Finalist – Best education & learning
• Finalist – Best children's
GEOSKILLS AND GEOCONCEPTS
What is a map?
Different types of maps
Locating places
Map projections and Time Zones
Understanding direction
Understanding scale
Using Topographic maps
Interpreting height on maps
Recognising landforms
Interpreting remote sensing
Spatial dimensions
Spatial patterns
Spatial links
Using GeoSkills
Using GeoConcepts

GEOREFERENCE
Australia - Natural Features
Australia - Human Features
Queensland
Great Barrier Reef - a marine environment
Brisbane
Noosa - a coastal community
New South Wales
Lake Mungo - a dune environment
Sydney
Cabramatta - a multicultural community
Australian Capital Territory
Environment:
Gungahlin - a planned community
Victoria
Loch Ard Gorge - a coastal environment
Melbourne
Victoria community: Clunes
Tasmania - a mountain environment
Hobart
King Island - an agricultural community
South Australia
Lake Eyre a salt lake environment
Adelaide
Port Lincoln - a coastal community
Western Australia - a monsoon environment
Perth
Tom Price - a mining community
Northern Territory
Kakadu - a wetland environment
Darwin
Kakadu - an Aboriginal community
Australia - Weather and Climate
Antarctica - Natural Features
Antarctica - Human Features
South Pacific
Pacific Nations
New Guinea
New Zealand
Asia - Natural Features
Asia - Human Features
South-east Asia
East Asia
Japan/Korea
South Asia
Middle East
Europe - Natural Features
Europe - Human Features
North West Europe
Southern Europe
Russia and Eurasia
Africa - Natural Features
Africa - Human Features
Northern Africa
Southern Africa
North America - Natural Features
North America - Human Features
Canada
USA
Central America
South America - Natural Features
South America - Human Features
Northern South America
Southern South America
World - Countries
World - Continents
World - Climate
World - Vegetation
World - Health
World - Economic Activity
World - Conflict/Terrorism
World - Culture
World - Heritage Sites

GEOTOPICS
Natural hazards - world
Natural hazards - Cyclone Nargis
Natural hazards - Australia
Natural hazards - Drought
Natural hazards - NSW
Floods
Natural hazards - Bushfire
Natural hazards - Thredbo
Earthquakes and Volcanoes - Active Earth
Earthquakes and Volcanoes - Mount Vesuvius
Earthquakes and Volcanoes - Hawaii
Earthquakes and Volcanoes - Haiti earthquake
Earthquakes and Volcanoes - Banda Aceh tsunami
Oceans and Coasts - Australia
Oceans and Coasts - coastal processes
Oceans and Coasts - managing coasts
Endangered and Introduced Species - world
Endangered and Introduced Species - Australia
Endangered and Introduced Species - Endangering environments
Endangered and Introduced Species - responses
Environments - world
Environments - the Tasman glacier
Environments - Mount Everest
Tourism - Australia
Tourism - World
Tourism - Disneyworld
Tourism - Kakadu National Park
Tourism - Ecotourism at Ningaloo Reef
Population - world
Population - young and old countries
Population - Australia
Population - Indigenous Australians
Population - People on the move
Population - Refugees
Urbanisation - world
Urbanisation - Australia
Urbanisation - Brisbane - an eco-city
Urbanisation - Mexico City
Changing Environments - world
Changing Environments - Australia
Changing Environments - deforestation
Changing Environments - desertification
Climate Change - causes and impacts
Climate Change - Larsen Ice shelf break up
Climate Change - Impacts on polar bears
Climate Change - Australia
Energy - world
Energy - Australia
Energy - uranium in Australia
Energy - Woolnorth wind farm
Managing Environments - Wilsons Promontory
Managing Environments - Kruger National Park
Managing Environments - The Grand Canyon
Managing Environments - Dubai
Managing Water Resources - world
Managing Water Resources - Australia
Managing Water Resources - Murray-Darling
Managing Water Resources - 3 Gorges dam
Managing Water Resources - Our water footprint
Australia's links with the World - Afghanistan
Australia's links with the World - Asia-Pacific
Australia's links with the World - food
Australia's links with the World - sport
World Statistics
How to use the gazetteer index
Gazetteer Index
Subject index
World flags