Key Concepts in VCE Business Management Units 1&2 3E eBookPLUS (Online Purchase)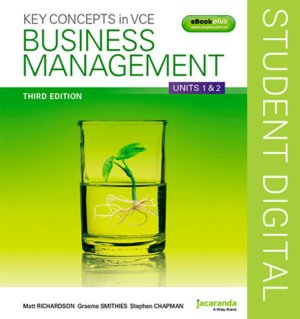 Title information

| | |
| --- | --- |
| Author/s | Chapman |
| ISBN13 | 9780730318255 |
| Pub date | January 2015 |
| Pages | 0 |
| RRP | $56.95 |
Add to cart

Key Concepts in VCE Business Management Units 1 & 2 3rd Edition eBookPLUS provides an innovative way of structuring learning, by solving key problems:
• How can students of all abilities be engaged and motivated (including the most able students)?
• How can current real-world examples be brought into the classroom?
• How can students be best prepared for their exams?

KEY FEATURES

• Revised and up-to-date case studies, business statistics and legislation
• Case studies incorporating the latest business news, views and trends
• Latest trends in human resource management and change management
• Key knowledge points from VCAA VCE study design
• Highly visual, digestible, lesson-based sections
• Chapter summaries, school-assessed coursework tasks and review questions
• Extend your Knowledge sections to challenge and extend understanding
• Dedicated apply your skills sections that help students demonstrate key skills


Key Concepts in VCE Business Management Units 1 & 2 and eBookPLUS is a digital-only version of the textbook that provides access to all the course content. It also includes a wealth of multimedia resources accessed through our JacarandaPLUS website (www.jacplus.com.au).




> eBookPLUS resources include:

• ProjectPLUS featuring a targeted ICT assessment task on business planning
• Videos featuring Australian and overseas businesses, with worksheets
• A glossary, crossword and missing-word glossary quiz for each chapter
• School-assessed coursework designed in Microsoft Word for easy customisation
• Weblinks to key business bodies
• Access from any digital device: PC/MAC/iPad/Android Tablet.
UNIT 1 Small Business Management
1. Introducing Business
2. Small business – decision making
3. Small business – planning
4. Small business – evaluation
5. Introductory accounting for small business
6. Management of staff in small business
7. Information and communications technology (ICT) in small business
8. Legal requirements of small businesses offering goods and services
UNIT 2 Communication and management
9. Communication in business
10. Managing the marketing function
11. Managing the public relations function
Acknowledgements